TD Jakes to Host New Daily Talk Show Premiering in Over 50 US Markets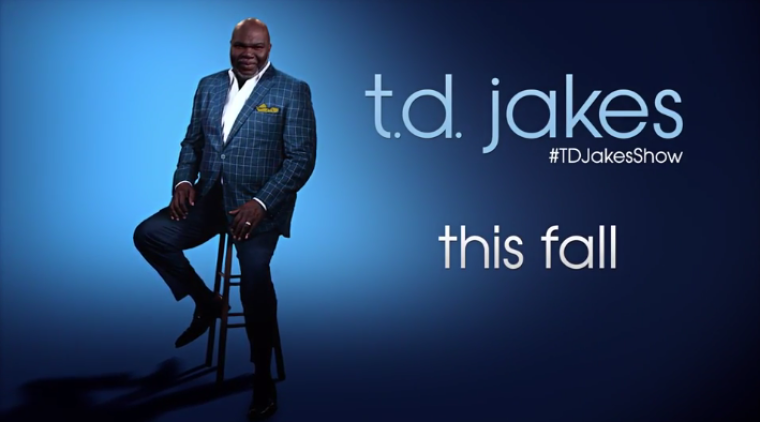 Film/music producer and best-selling author Bishop T.D. Jakes will host a new syndicated self-titled daily talk show, TEGNA announced. "T.D. JAKES" is set to premiere in more than 50 U.S. markets on Sep. 12.
The one-hour show will feature original social media content and real personal stories with candid conversations. Jakes will be talking to celebrity and non-celebrity guests along with sharing words of wisdom.
"T.D. Jakes" will be filmed in front of a live studio audience in Los Angeles and will air weekdays in the afternoon across the country. The talk show will also employ social media platforms so audience members can engage with the show 24/7 through @tdjakesshow.
"It's a thrill and a great honor to begin this new journey with such powerhouse media partners as TEGNA Media, 44 Blue Productions and enLight Productions," said T.D. Jakes in a statement shared with The Christian Post. "I'm grateful for this exciting opportunity to bring meaningful, thought provoking content to audiences across the country."
Before the upcoming official launch, TEGNA Media co-produced a successful limited test run season of "T.D. Jakes" for select markets last summer. It did so well the media company who hoped to create original content and grow its multi-platform slate of programming, has cleared the show in top 20 markets such as Chicago, Detroit and Orlando, in addition to 30 TEGNA owned media stations around the country.
"T.D. Jakes is a powerful, highly visible and well respected figure across a variety of media and social platforms. His inimitable approach and innate ability to connect with people will bring a welcome, positive new addition to the daytime television landscape," said Bob Sullivan, senior vice president of Programming for TEGNA Media. "With Jakes as host, we look forward to a long, successful run of impactful content that will undoubtedly draw large audiences and make a lasting impression on viewers across multiple platforms."
"We're proud to be one of the first broadcast partners to air the new 'T.D. JAKES' show, which will enlighten, inspire and entertain our Orlando WFTV/WRDQ and Memphis WHBQ audiences," added Jane Williams, Cox Media Group Executive Vice President of Television. "Cox Media Group endeavors to provide our viewing audiences with unique content that reaches across a broad spectrum of platforms and consumer interests, and 'T.D. JAKES' is a perfect fit for us."
"T.D. JAKES" will air weekdays on 30 TEGNA Media Stations as well as stations all throughout the United States. For more information, visit www.TEGNA.com.