Tea Party Activists Help Ferguson Woman Rebuild Her Salon After Looters Destroy Business a Second Time in Riots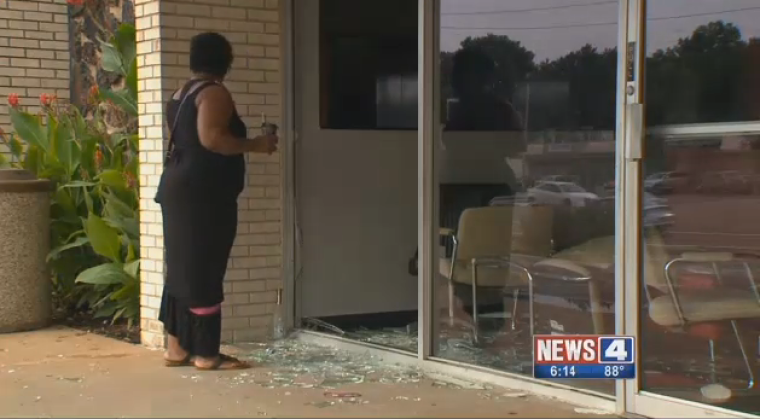 As a group of Tea Party activists are doing their part to help an independent salon owner in Ferguson, Missouri, rebuild her shop after looters in last year's riots caused thousands of dollars in damage, the store was robbed yet again on the one-year anniversary of Michael Brown's death.
After a Ferguson police officer shot and killed Brown, an unarmed black teenager who had just committed a theft at a convenience store last Aug. 9, rioters transcended on the town and damaged many buildings and businesses. As for the owner of the 911 Salon on West Florissant Avenue, Dellena Jones, looters busted into her store and left her tens of thousands of dollars in the hole.
But as Jones and other business owners in the area were left to clean up the mess, they were not alone in their quest to restore their businesses and the local Ferguson economy.
Believing in the importance of free enterprise and of serving people in their time of need, members from the St. Louis Tea Party Coalition organized hundreds of shoppers and instituted a "buycott" of the affected Ferguson stores to show that the town was safe to shop in again.
For Jones, she was finally able to remove the boards from her business' windows and doors in February, but says it's nearly "impossible" for her to keep up with her bills for the store and at home.
But, over the last few months, her efforts to restore her salon to its pre-riot condition have been aided by volunteers from the coalition.
On Sunday night, however, as #BlackLivesMatter activists gathered on the town for the first anniversary of Brown's death, the 911 Salon was broken into yet again by looters who smashed out the store's left window after a police officer shot and wounded a young black man who supposedly fired shots at officers.
The looters stole various beauty supplies, curling irons and scissors, according to Jones. They even flipped over and damaged one of her expensive hair dryers.
"With the narrative of the social media and the media in general, we can't win because right now, Michael Brown is the victim. But what about Dellena? Does she not matter?" White St. Louis Tea Party activist Dottie Bailey asked during an interview with The Christian Post. "My question is: do only some black lives matter and not hers and not her children and not her job that she has built?"
In the wake of the store being looted for a second time, the St. Louis Tea Party Coalition acquired the services of a group of individuals who vowed to sit inside the salon Tuesday night to ensure no more rioters could damage the store.
"You have all of these different protesters. They don't pop into your business and say, 'Hey, what do you need?' or 'Hey, are you all OK?'" Jones told The Daily Signal. "It just seems like with the protests, it seems very selfish."
"It's just amazing to me. The biggest chant is 'black lives matter.' So many black lives are being affected by this in such a big way," Jones continued. "I'm an African-American, I'm a single parent. I have two kids. I'm affected by this. It's almost a little bit contradictory with the chants of 'black lives matter,' but it seems that it's only some black lives matter."
Bailey, who established an online fundraising page to financially support the 911 Salon in May, said the damages caused by the first looting incident cost Jones roughly $70,000, taking into account the loss of customers, revenue, employees and physical store damage.
But as the online funding account has only raised a little over $4,000, Bailey knows that there is more that can be done to help get the salon back on its feet. With the help of another St. Louis Tea Party member, the coalition will attempt to rebrand the 911 Salon so that it can attract new customers and potential employees.
Additionally, the Tea Party group will organize volunteers to update the salon, do construction work and fix the salon's plumbing issues. The coalition also hopes to organize other organizations and business owners in the St. Louis area to help other affected stores in Ferguson.
"Our hearts are now for service. When you have a burden of knowledge, it is a call to duty and we all have that call to duty," Bailey explained. "Instead of taking the political route in trying to get the politicians to do something, we are just going to take it upon ourselves to figure out a way to get people back to work."
"We are going to figure it out ourselves because the political route is just corrupt," Bailey asserted.
Bailey admits that when she and other Tea Party activists first arrived in Ferguson to help after last year's riots, many in the neighborhood were skeptical of the Tea Party because of the negative picture that some of the liberal media painted of Tea Party organizations. However, the neighborhood's opinion of Tea Party activists has forever been changed.
"We are just going to have [to] ignore all the people that will call us racist and Nazis and all this and that because there is always going to be those folks," Bailey said. "We are not going to feed into the hate, we are just going to love on people and serve them and help them get jobs and go from there. The folks need jobs there. They are frustrated. I would be frustrated too when you have the opportunists coming in there and trying to make money."