Teacher Fired for Assigning 6th Graders Questionnaire on Going to Gay Bar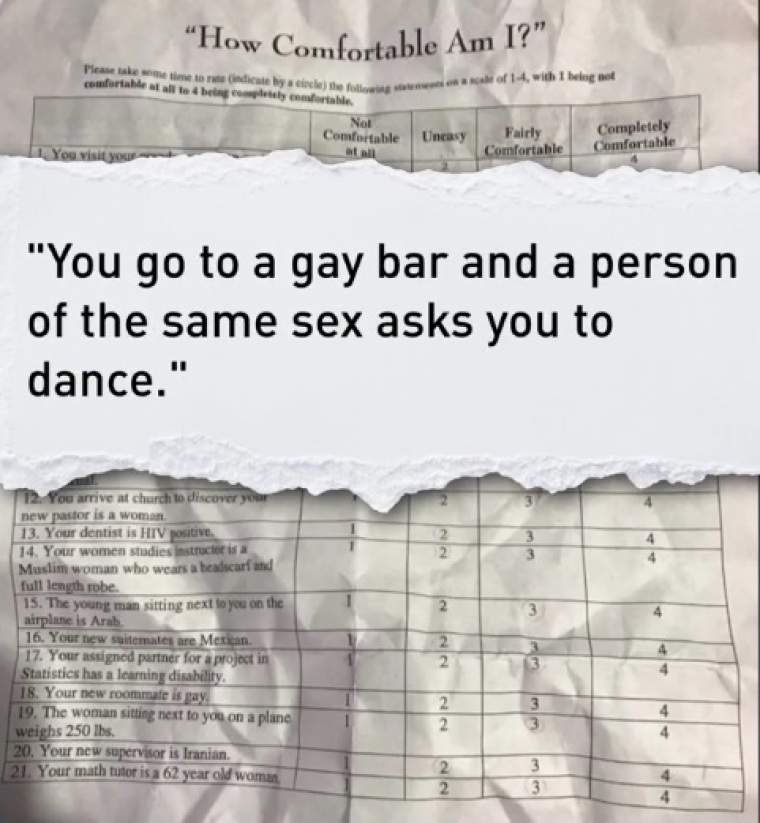 A Florida middle school teacher has been fired after she assigned her students a questionnaire that asked a number of "inappropriate" questions about race, sexuality, religion and culture.
Local news outlets have reported that Daryl Cox was relieved of her duties at Fox Chapel Middle School in Spring Hill, Florida, after she gave her sixth grade students in her "Leader in Me" class an assignment that was copied from the book, Exploring White Privilege, written by philosophy professor Robert Amico.
The questionnaire, titled 'How Comfortable Am I?' asked students to answer how comfortable they would be if presented with a number of different situations.
The students were asked to choose from a 1-to-4 scale — one being "not comfortable at all" and four being "completely comfortable" — to rate their comfort level with 41 hypothetical situations.
According to Tampa Bay's CBS News affiliate, the situations in the worksheet include:
"A friend invites you to go to a gay bar."
"You go to a gay bar and a person of the same sex asks you to dance."
"A group of young black men are walking toward you on the street."
"The young man sitting next to you on an airplane is Arab."
"Your brother's new girlfriend is a single mother on welfare."
"Your new roommate is Jewish."
Following the outrage voiced by parents, Cox, who was still in her probationary period as a teacher, was let go by the Hernando County School District.
"In no way, did this assignment meet the standards of appropriate instructional material," a statement from the school district reads. "After being made aware of the assignment, school administration began an investigation and has taken immediate disciplinary action. This teacher was within her probationary period and has been released from employment."
Sixth grader Tori Drews, who received the assignment, told local news station WFTS that she believed some of the questions in the assignment were "inappropriate."
"I thought some of them were racist. I thought some of them were sexist," Drews said. "I thought it was completely intolerable."
"There were children that were saying this is wrong. 'Why are we doing this?' 'Does this have a reason?' She was going 'Yeah, this is kind of wrong ... maybe I should take it back,'" Drews added. "Kids were asking if they could share it with their parents. She was like, 'No. Don't show your mom. Don't take that home. I'm taking it back up.'"
Jennifer Block, whose daughter was given the assignment, agrees with Drews that the questions were inappropriate.
"'How comfy are you if you see a group of black men walking to you on the street?' That's completely inappropriate," she told WFTS. "In no world, whatsoever, is that OK to question a child on."
After figuring out that Cox's assignment came from the appendix of Amico's book, WTSP reached out to Cox for comment on the use of his questionnaire in the class.
Amico said that the exercise is meant to help readers assess their own comfort levels with the situations laid out in the questionnaire in order to "direct readers to areas worth further exploration for personal growth."