California State University Hosts Animal Sex Fetish 'Furries vs. Pet Play' at 'Gaypril' Event
California State University in San Marcos will be sponsoring a discussion on various types of animal-based sex fetishes as part of a celebration of LGBT pride.
The month-long campuswide event, called "Gaypril," will feature a 50-minute talk on "Furries vs. Pet Play" on April 25, The College Fix reported on Wednesday.
But many Christians and conservatives on campus, including some LGBT students, are upset that the event is taking place, said Joshua Leibiwitz, vice president of the CSU San Marcos chapter of the College Republicans, in a phone interview with The Christian Post on Friday.
"To me it seems like borderline bestiality," said Leibiwitz, who is Catholic, adding that the promotion of the sexual subculture to college students is just "the tip of the iceberg."
"I would say [my LGBT friends] are more upset than the other population of College Republicans because [of how] it paints their movement and belittles their movement. It reduces it to furries and pet play. That's an absurd notion. It marginalizes them; they are painted into a belief system that they don't necessarily buy into," he said.
But because of strong support from the administration, he expects the seminar will be well attended.
"However, we do expect a lot of backlash," he added, telling CP that the College Republicans are working to expose the event and are planning to host a counter-event or possibly a protest.
The description online of the "Furries vs. Pet Play" event doesn't provide much detail, stating simply: "How much do you know about these two groups? Do you know that they are two different fish in a pond. Come find out why in this weekday discussion."
The speaker or discussion host for the event has not been announced.
According to online searches performed by the College Fix, "furries" mostly refer to people who enjoy dressing up in animal-like costumes. Sometimes this dressing up is part of a sexual pursuit, other times it's not. By contrast, "pet play" refers to a sexual fetish in which someone enjoys pretending to be an animal and doing animal behaviors in order to be sexually gratified.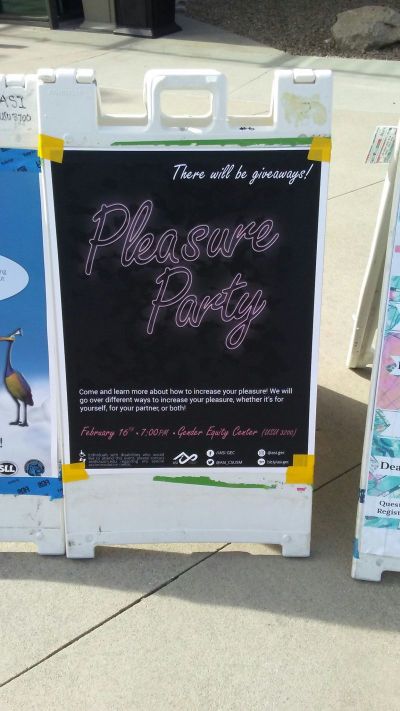 A May 2016 article in The Guardian examining this particular subculture observed that "human pups tend to be male, gay, have an interest in dressing in leather, wear dog-like hoods, enjoy tactile interactions like stomach rubbing or ear tickling, play with toys, eat out of bowls and are often in a relationship with their human 'handlers.'"
Leibiwitz told CP the cost to students to host the "Gaypril" event likely wasn't cheap, noting that CSU-SM routinely brings left-wing speakers like Jane Elliott and Cornel West, whose minimum speaking fee is about $40,000.
"There are several events like this and we can't receive funding for a conservative or Christian speaker. We had a group try and bring on a speaker for the pro-life community and they didn't receive enough funding to make that happen. Yet my school can afford several of these events to promote an agenda that is opposite to everything we believe."
The fact that CSU-SM is willing to put on this type event is further "proof as to just how delusional college campuses have become," he stressed.
Matthew Coe, another student at CSU-SM, who identified himself as "Christian, Republican who has gay relatives" said in an email to CP that the upcoming talk is "not too surprising."
"Our campus has a very pro-liberal agenda and they often use this to spread the LGBT program amongst many other programs," Coe said.
"I was shocked to see that the school is now supporting an animal-based sex fetish group," he added, noting that it sends a troubling message that "shouldn't be allowed."
"I guess this goes to show us what a school without God looks like," he said.
Another student who is in a leadership role with the campus chapter of the College Republicans who spoke with CP on condition of anonymity said this is a part of a trend of highly sexualized, perverse events on campus.
The student leader supplied CP with a photo of a poster for a Feb. 16 "Pleasure Party" hosted by the university's "Gender Equity Center" where students were promised "giveaways" and an opportunity to "go over different ways to increase your [sexual] pleasure whether it is for yourself, your partner, or both."
Disabled students who desired to participate were instructed to email Associated Students, a nonprofit, student-run auxiliary of CSU-SM for "accommodation needs."
The CSU-SM women studies faculty is reportedly also developing an "LGBTQ minor," the curriculum for which has been created and piloted as "women studies special topic courses," and is taking extensive steps to accomodate transgender activists.