Teacher fired for protesting pro-transgender lessons at son's UK Christian school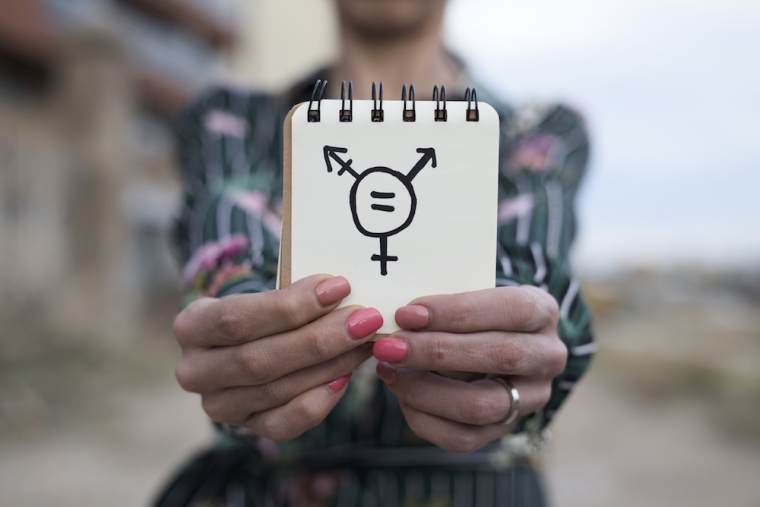 A Christian school assistant has been fired for "gross misconduct" after she protested against transgender issues being taught at her young son's Church of England school.
Kristie Higgs, 43, was fired from her positions as pastoral assistant at a Gloucestershire academy after she posted objections on her personal Facebook page to the use of two pro-LGBT children's books at her son's school, the Daily Mail reports. The books in question included stories about a boy who wants to wear a dress and a red crayon that discovers it is really blue.
She also urged her Facebook followers to sign a petition against compulsory sex education in primary schools, which will go into effect September 2020. Under the new guidelines issued by the U.K. Department of Education, children as young as five will receive lessons about LGBT relationships and gender reassignment.
On Facebook, Higgs warned that under the new curriculum, "children will be taught that all relationships are valid and 'normal,' so that same sex marriage is exactly the same as traditional marriage, and that gender is a matter of choice, not biology, so that it's up to them what sex they are."
She added that at the same time, "expressing and teaching fundamental Christian beliefs, relating to the creation of men and women and marriage, will in practice become forbidden — because they conflict with the new morality and are seen as indoctrination into unacceptable religious bigotry."
"Please sign this petition, they have already started to brainwash our innocent wonderfully created children and its [sic] happening in our local primary school now," she concluded.
Higgs, a mother of two who had worked at the secondary school for six years with an unblemished record, was fired after a sole anonymous email complaint accused her of "posting homophobic and prejudiced views," the DailyMail reports.
A disciplinary panel found she was guilty of "gross misconduct" and "illegal discrimination" for using language which "could be deemed offensive." The panel also said her comments "could bring the school into disrepute and damage the reputation of the school," but admitted "there was no actual evidence" that this had happened.
The school told Higgs that "no action was taken because of your religion" and that the disciplinary action occurred "for reasons other than your religion."
However, Higgs said she's clearly being targeted for her faith: "As soon as the investigation began I was repeatedly told 'This is nothing to do with your religion,'" she said. "That was clearly a legal tactic and of course it has everything to do with my religion."
Higgs has launched a legal challenge via Christian Legal Centre, the legal arm of the lobbying group Christian Concern, the BBC reports.
In a statement via Christian Concern, she said: "I hold these views because of my Christian beliefs, beliefs, and views which are shared by hundreds of thousands of parents across the UK.
"My number one concern has always been the effect that learning about sex and gender in school will have on children at such a young age."
She added: "I am determined to fight this case and to stand for Christians and all parents across the country who are being silenced for sharing and holding these views."
Andrea Williams, chief executive of the Christian Legal Centre, said: "This case is about the freedom to hold Christian views about what it means to be human."
In February, Damian Hinds, the education secretary, announced English schools will significantly broaden sex and relationship education to cover topics including same-sex relationships, transgender people, and other issues.
"Our guiding principles have been that these compulsory subjects should help to keep children safe, should help to prepare them for the world in which they're growing up," Hinds said, adding the curriculum will "help them foster respect for others and for difference."
Parents may opt out of any sex education element of relationships education in primary school; in secondary school, they may only withdraw their children from lessons until the age of 15.
However, at that stage, a student can request to have lessons alongside their classmates regardless of their parents' views — and in "exceptional circumstances," head teachers can overrule parents.
The updated sex education curriculum has seen vocal opposition from conservative Christian, Jewish, and Muslim parents, who say the new guidelines undermine their religious beliefs.
In a statement, Colin Hart, chairman of the Coalition for Marriage, called the lessons "completely unacceptable" and warned they will "downgrade marriage."
"The Department for Education is sidelining traditional marriage, the most stable form of relationship for raising children and forcing them to learn about every other form of relationship under the sun, even when it is not age-appropriate. The law should encourage traditional marriage, not undermine it," he said.
Hart said the new guidelines evidence that the Department for Education believes that traditional marriage no longer matters and marginalizes those who do not support political correctness for religious reasons.
"But even those keen to promote other forms of family life have been unable to deny that evidence shows that children do best when they are raised by their mother and father," he said.
"It also ignores that marriage, the life long union between one man and one woman, despite all the rhetoric and spin is the most stable form of relationship. This is why rather than downgrading marriage we should be doing more to celebrate its many societal and personal benefits."