Teacher's Restoration of Church's 500-Y-O St. George Effigy Goes Viral, Compared to 'Monkey Christ'
Teacher's Restoration of Church's 500-Y-O St. George Effigy Goes Viral, Compared to 'Monkey Christ'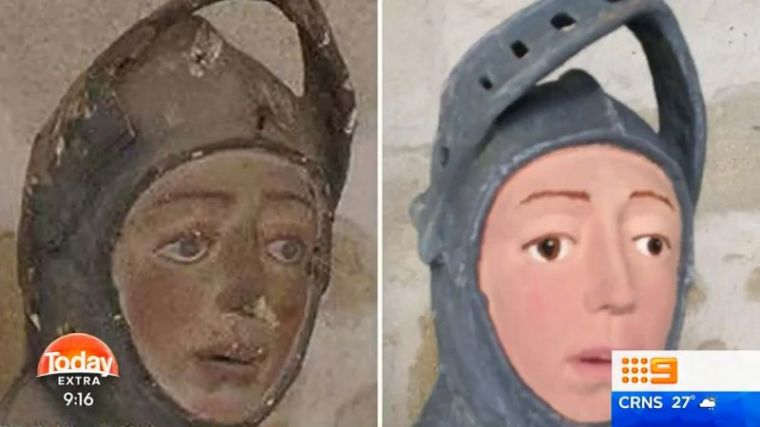 An arts and crafts teacher's restoration of a 16th-Century wooden statue of St George in a Spanish church has been ridiculed by the town's mayor as it has gone viral around the world.
The polychrome effigy of St. George, the patron saint of England and other nations, received a significant make-over at the Church of St. Michael in the town of Estella, but instead of praise has earned much ridicule, as The Guardian reported on Tuesday.
The church hired the teacher to freshen up the 500-year-old statue, but the result left the Roman soldier with a rosy pink face and a red-and-grey suit of armor, with observers around the world, including Estella's own mayor, criticizing the new look.
"The parish decided on its own to take action to restore the statue and gave the job to a local handicrafts teacher. The council wasn't told and neither was the regional government of Navarre," mayor Koldo Leoz said.
Explaining his objections, Leoz continued:
"It's not been the kind of restoration that it should have been for this 16th-century statue. They've used plaster and the wrong kind of paint and it's possible that the original layers of paint have been lost."
The mayor revealed that experts have been summoned to determine whether it is possible for the restoration work to be undone.
"This is an expert job it should have been done by experts," he declared.
Leoz lamented in a series of tweets the fact that Estella was now making news around the world, but not for positive reasons.
"How is it possible that the parish priest of a church is able to decide the fate of a 16th century statue without communicating his intentions either to the city council or to the local government and ignoring absolutely his legal duty or professional judgment?" he asked.
Still, he insisted that the church did not mean to produce a bad restoration.
"I do not doubt the good will of both the pastor and the person in charge of desecrating this work of art through inappropriate techniques, but the negligence of both is very serious and cannot overlap with the excuse of goodwill," he wrote.
Botched restorations of church paintings and statues have gone viral on a number of occasions throughout the world, perhaps none more famous than the fresco restoration of Jesus Christ in the northern Spanish town of Borja, which has since been dubbed "Monkey Christ."
The original painting of "Ecce Homo" ("Behold the Man") at the Sanctuary of Mercy Church was transformed into a bloated, nearly unrecognizable version by an artist in 2012, which media and others started calling "Monkey Christ" in jest.
The interest around the botched restoration proved highly profitable for Borja, however, which for years later saw a boom in hundreds of thousands of visitors who came to the church to see the painting, even sparking merchandise, such as T-shirts and teacups.