Tearful Hope Carpenter Begs for Forgiveness From Multiracial Megachurch, Says She's 'Ignorant' About Discrimination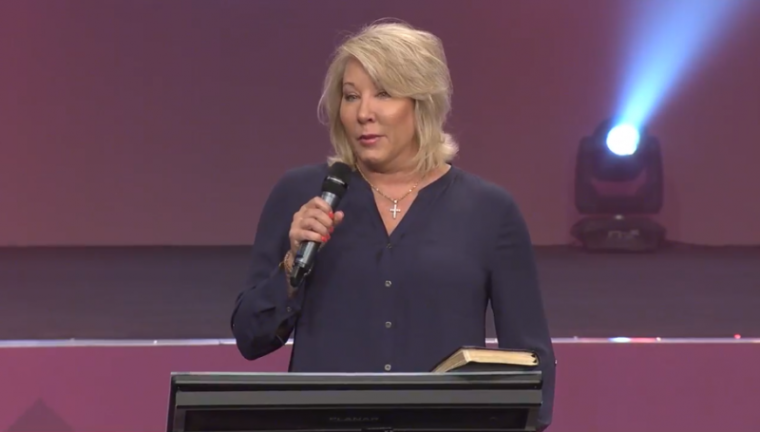 A tearful Hope Carpenter, who co-founded the 21,000-member Redemption Church in Greenville, South Carolina, with her husband Ron Carpenter Jr., apologized to their multiracial congregation Sunday for slamming NFL players protesting social injustice during the national anthem as wrong.
"I love you ... And that's why I'm so devastated that I hurt you," she said, wiping tears from her eyes after she was greeted by applause from her church Sunday.
The embattled preacher's wife argued in part in her now deleted comments on Facebook last week, that the controversial "take a knee" movement sparked by former San Francisco 49ers quarterback Colin Kaepernick, 29, is only dividing the country. Kaepernick began kneeling during the performance of the national anthem last season to protest police brutality and the treatment of minorities.
"Stop thinking about it from your history or race! The NATIONAL ANTHEM IS OUR NATION's SONG! Yes, there are things in our country that's wrong, but our country is not to blame! You don't like it? Move or be a part of the healing of our nation! This only separates and divides more yall!!!!! Rise up church! Where you at??? U hanging out with the complainers??? The mad???? Where u at???" Hope Carpenter said in part.
With an estimated 60 percent of members at Redemption Church's flagship campus identifying as black, however, Hope Carpenter quickly came under fire from critics, which forced her husband to apologize on her behalf. His apology, however, created a new firestorm from others who felt his wife's comments were spot on.
Nevertheless, in her apparently heartfelt apology on Sunday, Hope admitted that she learned a painful lesson in the last week and had come to realize her comments were "careless" and "ignorant." She also vowed to educate herself on things she realized she knew very little about despite being the pastor of a multiracial congregation.
"I was careless and said things that hurt people and I was ignorant of the whole scope of it all. The very people I love, the very people I fight for I hurt and I beg you to forgive me," she said as some of her congregants rose to their feet again and applauded while others simply sat and watched.
"That post was very controversial, the wording was very sensitive to issues that if you could believe it or not I was truly ignorant about because I don't live there. I don't, I don't, I don't live there," she said, shaking her head.
"I've never been treated unfairly and the people that have, even my great friends who we do vacations with and do life with, we honestly just don't focus on that. We don't go there. We just love each other. We love each other through each other's differences. We don't argue about it. We don't hate each other for it and so I was ignorant to how deep and how painful, because I see this every week," she said, waving her hand across the multiracial picture of her congregation.
It is that picture, she said, that may have given her a false sense of racial awareness.
"Maybe I was, I don't know, maybe I was duped to think that you know, maybe we had made a difference you know, maybe we had come so far out and that's where I live. But I promise you, I'm going to educate myself. And I'm gonna see what the other people out there, not in here, necessarily feel," she admitted.
"And many of you in here may still feel that but I promise you I'm gonna get educated. Cause I don't want to be ignorant, and I don't want to talk stupid. I don't want to hurt the people I love. And going from here, I just ask for your grace and mercy. That I'm not perfect and I make mistakes too and I made one. It's been a very painful learning experience but aren't most of them? Most of our learning experiences are painful," she continued.
She then recalled a vow she made to God during a period when she was separated from her husband. Ron Carpenter Jr. revealed in 2014 that his wife confessed in 2010 that she had been unfaithful to him multiple times over the course of 10 years in their marriage. She ended up getting psychiatric care and they were separated for a while.
"You know I told the Lord. I have to say this. I didn't say this in the first service ... I told the Lord, when Ron and I were going through our difficult time, we were separated. I was getting the mess beat out of me then too. Called every name in the book," she said.
"And I remember standing in ... North Carolina in the mountains all by myself and I said 'God, if I have to be the one who's the battering ram so that other people can be free I'll do it. And He reminded me of that this morning. And I can take it. I want you to know it's been tough and it's been hard but God's brought me through, long time ago," she said. "And I know He'll bring us through this and I'll come out better. And I'll come out wiser and I want you to know that I love you deeply. And I am truly sorry that I hurt you. Cause that's not who I am. And I beg you to forgive me."