Ted Cruz Booed After Defending Israel at 'In Defense of Christians' Summit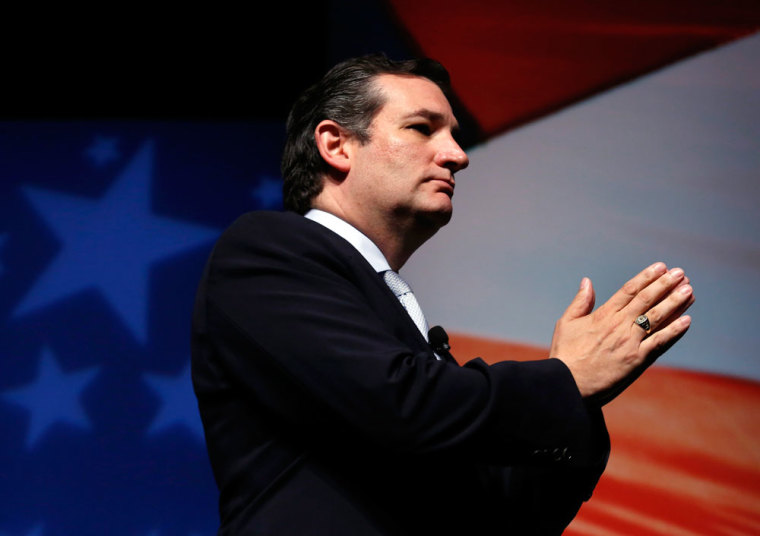 U.S. Senator Ted Cruz was booed at a Washington, D.C., event spotlighting the need to help persecuted Christians abroad.
The outspoken Texas Republican heard jeers from some members of the audience for the inaugural Summit dinner for the group In Defense of Christians while speaking on Wednesday.
Addressing an audience that included several Middle Eastern Christian leaders, the negative response reportedly came after Cruz spoke positively of the modern state of Israel.
"Christians have no greater ally than Israel," said Cruz, which was responded to with boos and heckling from some in the audience, noted Daily Caller.
While slated to be the keynote speaker, the reaction from the crowd compelled Cruz to cut his comments off and leave the stage.
"If you will not stand with Israel and the Jews, then I will not stand with you," said Cruz before exiting the hotel ballroom Wednesday evening.
In a statement, the organization In Defense of Christians repudiated the hecklers emanating from an estimated 900 guests for the gala.
"Tonight's injection of politics when the focus should have been on unity and faith, momentarily played into the hands of a few who do not adhere to IDC's principles," stated In Defense of Christians President Toufic Baaklini.
"Tonight's events make clearer than ever, that In Defense of Christians is desperately needed in a world that remains divided to the point where even the most fundamental value of life and human dignity are cast aside."
Cruz's remarks came as part of a multiday summit sponsored by IDC meant to bring together Middle Eastern Christian leaders, U.S. lawmakers, human rights activists, and others to discuss efforts to combat Christian persecution abroad.
Known as the IDC Summit for Middle East Christians, the event focus was on Middle Eastern Christianity, given the recent waves of intense violent persecution against those communities.
In addition to Cruz, speakers for the summit included Archbishop of Washington Cardinal Donald Wuerl, Cardinal Leonardo Sandri of the Vatican's Prefect of the Congregation for Oriental Churches, Congresswoman Anna Eshoo, D-Calif., Congressman Ted Deutch, D-Fla., Congresswoman Ileana Ros-Lehtinen, R-Fla., and pollster Dr. James Zogby.
Mark Tooley, president of the Institute of Religion and Democracy and an attendee of the evening event, wrote in a blog entry that he was not surprised by the reaction.
"It's no secret that many Mideast Christians generally aren't big fans of Israel. I learned this firsthand during the 2006 Israel war on Hezbollah, when my discussion at church with a Lebanese Christian nearly escalated to a shouting match," wrote Tooley.
"Sometimes American Christians romanticize overseas persecuted Christians into disembodied noble souls unaffected by terrestrial concerns. But they, like everybody else, have histories, loyalties, resentments, grievances, and political calculations."