Ted Cruz, Marco Rubio Celebrate Pastor Saeed's Release While Blasting Obama for Prisoner Swap That Brought Him Home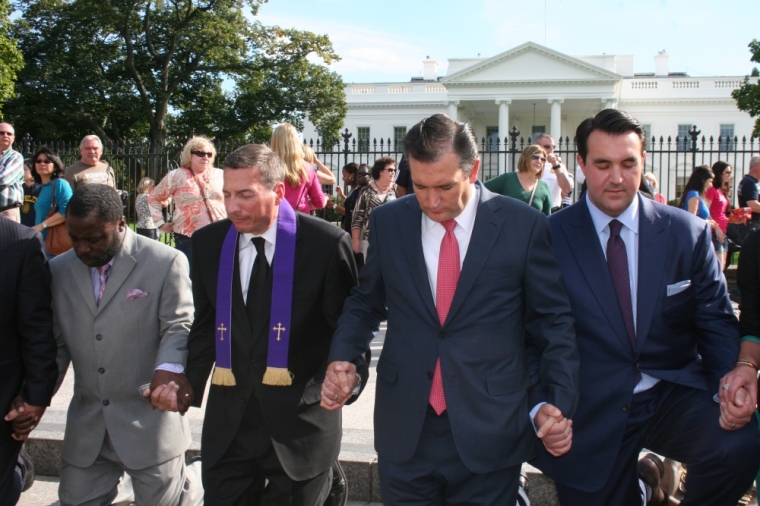 Republican presidential candidate's Ted Cruz and Marco Rubio celebrated the release of Pastor Saeed Abedini and three other Americans by Iran, but questioned the wisdom of the prisoner swap that brought them home. 
Texas Sen. Ted Cruz praised God for the release of Iranian American Pastor Saeed Abedini while arguing President Obama's prisoner swap amounted to "negotiating with terrorists." Florida Sen. Marco Rubio also blasted Obama saying he "put a price on the head" of U.S. citizens.
"Praise God that the prisoners are coming home, that the Americans are coming home," Cruz said during an interview on Fox News on Sunday.
Abedini was released Saturday along with three other detained Americans: Washington Post correspondent Jason Rezaian, former Marine Amir Hekmati and Nosratollah Khosavi-Roodsari.
"You know, in particular, millions of believers across the world have been lifting up Pastor Saeed Abedini in prayer and speaking out for his case," Cruz said. "And so, we celebrate their coming home … We celebrate all of them coming home."
Cruz added that he spoke briefly to Naghmeh, Pastor Saeed's wife, on Saturday.
"But at the same time, this deal is a problematic deal, and it reflects a pattern we have seen in the Obama administration over and over again of negotiating with terrorists, and making deals and trades that endanger U.S. safety and security," Cruz went on to say.
The four Americans were released by Iran in exchange for seven people imprisoned by the United States and also ahead of the nearing implementation of the July 2015 historic nuclear deal between Tehran and six world powers.
Cruz also said Obama's deal has a lot in common with the "Bowe Bergdahl deal, where in exchange for Bowe Bergdahl — someone now facing court-martial — we released five senior Taliban terrorists."
Cruz noted that this deal was to bring back "Americans who were wrongly imprisoned, we release seven terrorists who helped Iran with their nuclear program and we agreed not to prosecute another 14 terrorists for doing the same thing."
"That's 21 terrorists helping Iran develop nuclear weapons that they intend to use to try to murder us," Cruz said.
Rubio also responded to the Obama administration's deal.
"Our enemies now know that if you can capture an American, you can get something meaningful in exchange for it," he said on NBC's "Meet the Press" on Sunday, insisting that, "we would have gotten them home."
"It will be like Ronald Reagan, where as soon as he took office, the hostages were released from Iran," Rubio said. "We would have given them sanctions, crippling sanctions ... there would have never even been a discussion on these deals until they were released. Iran needs more from us than we need from them. We need to remind ourselves of that."
Sen. Rand Paul, a Republican from Kentucky, sounded more positive.
"I'm very thankful to have the folks coming home from Iran," he said. "Our hope is this is a thawing in relations with Iran and is going to become a better behaved and more civilized Iran. But I think it's going to take continued vigilance on the foreign relations committee and we're continuing to watch to try to make sure that they are adhering to the nuclear agreement."
Abedini's wife, Naghmeh, who has tirelessly campaigned for his release since his imprisonment, said in a statement, "This has been an answer to prayer. This is a critical time for me and my family. We look forward to Saeed's return and want to thank the millions of people who have stood with us in prayer during this most difficult time."