Ted Cruz to Skip Obama's Final State of the Union Address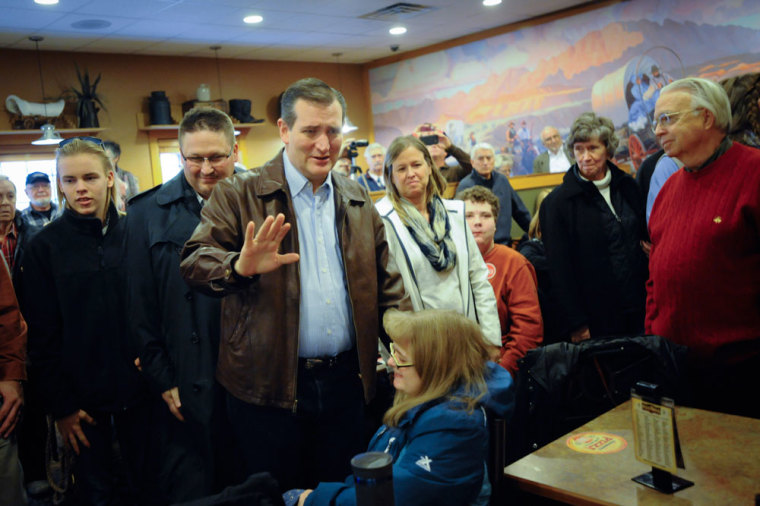 Republican presidential candidate and Texas Sen. Ted Cruz will skip President Obama's final State of the Union Address Tuesday night.
While the other two Republican candidates currently in Congress, Kentucky Sen. Rand Paul and Florida Sen. Marco Rubio plan to attend Obama's address in the House chamber, Cruz' campaign staff told The Hill that Cruz will instead be on the campaign trail in New Hampshire, where he currently sits in fourth place in an average of New Hampshire Republican polling.
Democratic presidential candidate and Vermont Sen. Bernie Sanders is also scheduled to be in attendance for Obama's speech tonight.
Although Cruz will not attend the address, Cruz spokesman Rick Tyler told The Hill that the 45-year-old Cruz will no doubt be "disappointed" by the content of the president's speech, regardless of where he hears it.
"It won't matter because he'll be just as disappointed in New Hampshire as he will be in the chamber," Tylery said. "It's not a snub. He's going to be in New Hampshire, working hard to win New Hampshire."
As billionaire businessman Donald Trump currently leads the RealClearPolitics average of Republican polling in New Hampshire with 30.2 percent of the support, Cruz also trails Rubio (13.2 percent) and Ohio Gov. John Kasich (11.2 percent) as he has received just 10.8 percent support in the Granite State.
Cruz looks to gain the success in New Hampshire that he has seen in Iowa, where he is leading the average of Republican presidential polling with 27.3 percent.
Dan Schill, an associate professor at James Madison University who teaches on media and politics, told the Hill that Cruz' absence from the State of the Union Address will likely not have a huge impact with presidential primary voters.
"I don't think it will necessarily turn off too many primary voters in New Hampshire and Iowa, but there is that risk," Schill said. "The choice to stiff the speech can send a message it's time for change. It may also backfire for people who see it as not respecting office of the presidency."
Also attending the State of the Union Address will be controversial Kentucky clerk Kim Davis, who spent days in jail this past September when she refused to issue marriage licenses to same-sex couples following the June Supreme Court ruling that legalized gay marriage nationally.
The Family Research Council, a leading social conservative activist organization, secured Davis a ticket to the event.
Davis told the Christian Post in a Monday interview that she would like to hear Obama provide hope and speak about Christian values during his address.
Also attending the address is Everett Piper, the president of Oklahoma Wesleyan University, which has been at the forefront of a number of religious liberty issues facing Christian colleges.
Piper, who will attend as a guest of Sen. James Lankford, R-Okla., wrote an open letter last year condemning the rise of political correctness on college campuses. In the letter, he told students that they "need to grow up" and that college is "not daycare."