Ted Cruz Teases Hecklers, Challenges Obama at Values Voter Summit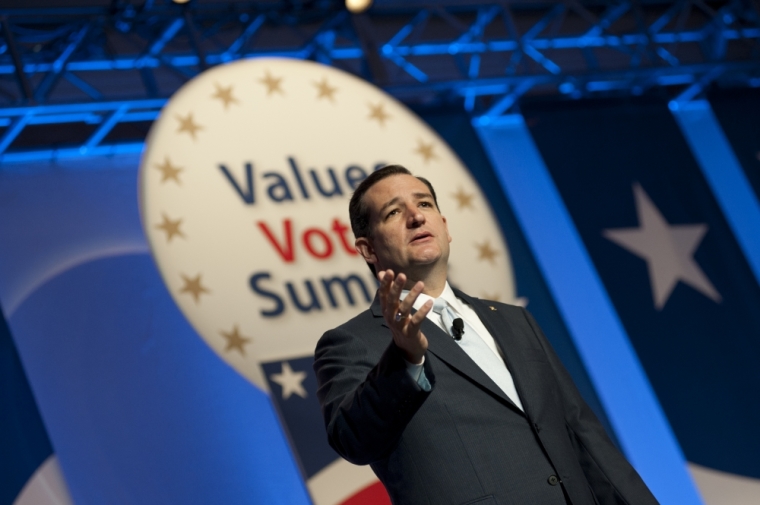 WASHINGTON – About two dozen hecklers interrupted Senator Ted Cruz (R-Texas) while speaking at the conservative Values Voter Summit, but rather than step down, apologize, or speak quieter, Cruz raised his voice, incorporated their complaints into his speech, and challenged President Obama to a new type of discussion.
"It seems that President Obama's paid political operatives are out in force today," Cruz quipped. In an effort to explain why, the senator proclaimed that "the men and women in this room scare the living daylights out of them."
While the hecklers caused a stir, Cruz quickly addressed them and moved on. The audience cheered and applauded him for doing so. The first person to interrupt him asked, "Senator Cruz, why won't you support a pathway to citizenship for immigrant families?" Immediately, the senator thanked him for his presence, even while the audience jeered him.
"You know, look, it is a great thing that people can express their First Amendment rights," Cruz said. "I only wish the Obama administration respected First Amendment rights that much," he retorted, garnering cheers and applause. Ushers escorted the heckler from the building.
After a second interruption, Cruz again thanked the protester, but added a rebuke. "I wish you would participate in the democratic process through speaking respectfully." He then joked about Obama's "paid political operatives" crashing the conservative conference.
After the third incident, Cruz asked, "Is anybody left at the Organizing for America headquarters?"
"I'm actually glad that the president's whole political staff is here instead of actually doing mischief in the country."
Following a final incident involving multiple protesers, the senator made an offer to President Barack Obama. "I would welcome the president – if he wants to get a hundred of his most rabid political operatives in a room, I'll answer their questions on television as long as he likes," Cruz promised.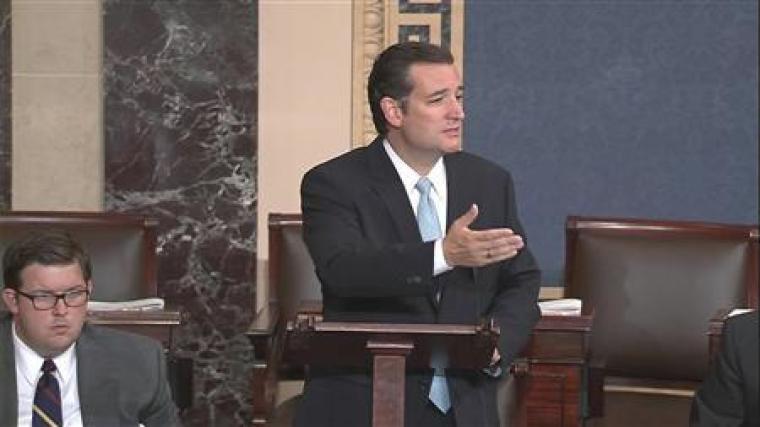 Then what some conservatives would consider the zinger, "And in exchange, all I would ask, Mr. President, is that you take not a hundred, but 10 of the men and women in this room and spend 30 minutes answering their questions for the American people."
Throughout his speech, supporters chanted "USA! USA! USA!" while hecklers were escorted from the building.
One protester who identified himself as "Juan Paolo," explained his part in the "11 Million Dreams" campaign, sponsored by the immigrant youth organization United We Dream. "We represent a lot of undocumented youth in the country who have come here with their families to have a better life, escaping poverty, escaping violence," he told The Christian Post.
When asked which of Senator Cruz's points against President Obama's healthcare law inspired their protest, Paolo didn't have an answer.
Margie Del Castillo, national field fellow at the pro-immigrant group Alliance for Citizenship, did. "I think we targeted Senator Cruz because he's played a really powerful role in immigration reform," and because "he has a lot of leadership qualities in the House, I think Republicans listen to him," she told CP.
Del Castillo's colleague, Christine Sentina, emphasized the Latino population in Cruz's home state of Texas. "Texas is one of the biggest Latino constituencies in the United States," she said. "That's a huge issue to ignore."
"They talk a lot about representing the unborn because they can't speak for themselves – neither can immigrants, undocumented immigrants," Sentina added.
While the Senator did not emphasize that issue in his speech, he did tell the story of his father, who emigrated from Cuba. "When he came here seeking freedom, he did it because no nation on earth has allowed so many millions of people to come with nothing and achieve anything and achieve the American dream," Cruz said. His speech focused on preserving the opportunity for Americans to achieve that dream.
Following the senator's 21-hour-long speech last month, his father, Rafael, said he "was not surprised" to see his son speak so long and with such eloquence. Cruz's father told of how his son would write the entire Constitution by memory and "gave about 80 speeches all over Texas on the free market and the Constitution" as a young teenager.
"That passion is as alive today as it was 30 years ago, so I wasn't surprised that he did what he did," Cruz's father said.
"Senator Cruz is the leading proponent of legal immigration in the Senate," wrote Ted Cruz's Communications Director Sean Rushton in an email statement to CP. According to Rushton, Cruz "regrets that all-or-nothing citizenship advocates have been willing to stop any meaningful progress towards securing the border and making the legal immigration work better."