Teen Girls Leave Home for ISIS; Families Make Desperate Pleas for Their Return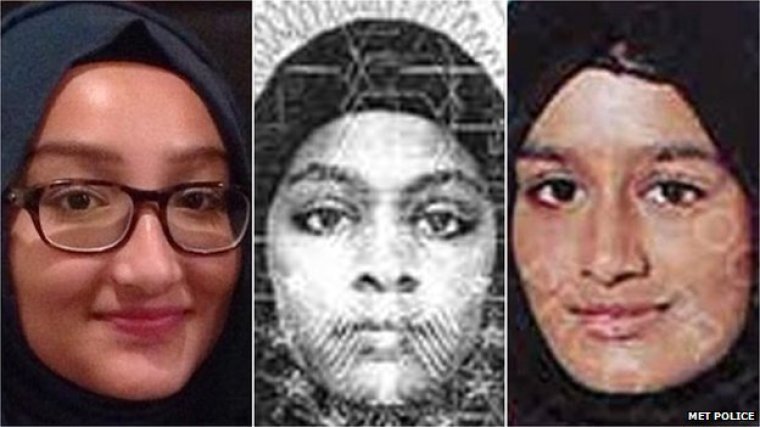 The parents of three British teenagers feared to have fled the country to join ISIS have reached out on public TV, pleading for them to return home.
"What she's doing is completely nonsense," 15-year-old Amira Abase's father, Hussen, told CNN. "Remember how we love you. Your sister, brother, they cannot stop crying. We miss you."
Just shy of one week ago, Amira, Shamima Begum (15), and Kadiza Sultana (16), left their homes under the guise of going to school, but never returned. Instead, they flew from London to Istanbul, where they were supposed to transfer and go to Syria to meet up with ISIS recruiters. Due to an epic snowstorm, the flight to Syria was cancelled, giving authorities more time to try and locate the girls.
"There's a good possibility, a strong possibility, that we can stop them going into Syria. And our main objective here is to make contact with these three young girls, for them to make contact with us, preferably. This is an ongoing, live counterterrorism operation, and we're concerned about these three girls," London Metropolitan Cmdr. Richard Walton added.
Shamima's parents have also spoken out to try and reach their daughter before she is too deeply imbedded with the terrorist organization.
"Syria is a dangerous place and we don't want you to go there," they said in a statement released by authorities. "Get in touch with the police and they will help to bring you home. You are not in any trouble. You don't have to put yourself in danger. Please don't cross the border. Please come home to us. Our Mum needs you home and is really worried. We are not mad at you, we love you."
According to reports, Shamima was able to fly to Turkey by using her 17-year-old sister's passport. British authorities are currently working with Turkish officials to try and locate the girls. Of course, there has been some pushback after it was discovered that Shamima sent a Twitter message to Aqsa Mahmood, who left Glasgow to join ISIS in 2013. Mahmood's account had been monitored prior to the teens leaving, but nothing was done to prevent them from doing so.
"Find the courage in your heart to contact us and let us know that you are safe and you are OK," Halima Khanom, Kadiza's sister, told the BBC. "That is all we ask of you."