Teenage Chick-fil-A Employee Draws More Than $40K in Donations for Working Injured to Help Homeless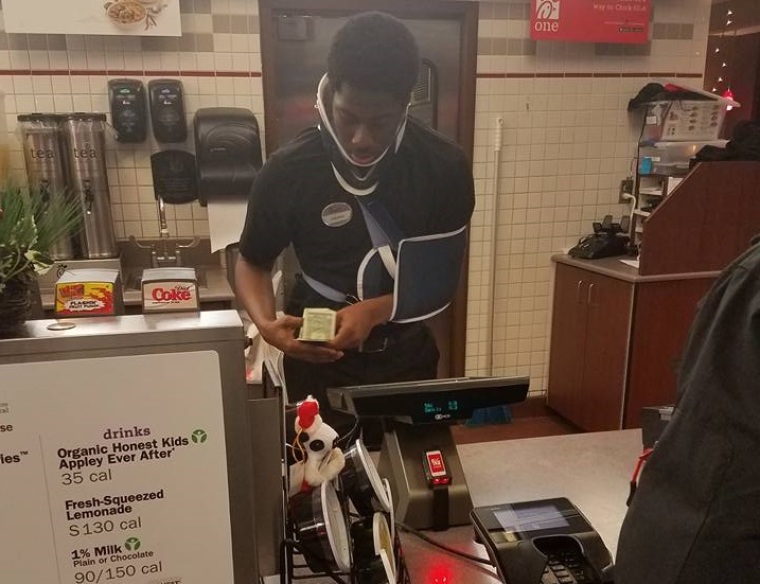 Jakeem Tyler, an 18-year-old Chick-fil-A employee and aspiring evangelist from Avon, Indiana, who became an internet inspiration after a photo of him working in a neck brace and arm sling to earn money to help the homeless will donate more than $40,000 raised in a GoFundMe campaign to the people who inspired his passion.
Nearly two weeks ago, Chick-fil-A customer Cameron Nelson told the company in a now viral Facebook post how he met Tyler at the Chick-fil-A location on Rockville Road in Indianapolis.
"The line for the drive-thru was pretty long, so I decided to go inside. When I entered, I saw a gentleman behind your cash register, who was working with a neck brace and a sling. For anyone to work in those conditions is commendable, but it's amazing for someone in his generation to have that type of work ethic," Nelson wrote.
"When I placed my order, I asked him what happened to him. He said he was involved in a car accident days earlier, but was working because he needed the money and that he also wanted to use his money to feed the homeless for Christmas. And of course, he was polite and courteous," Nelson explained.
Tyler told WKRN that when he went to work after the accident he was feeling sore but didn't want to take time off so he opted for the neck brace and sling.
"When I came in I was still stiff and sore [but] I didn't want to call off because I was like, well, first I want to get money," he said. "They were telling me, Jakeem, like go home, we don't need you here."
Inspired by Tyler's work ethic and his noble cause, Nelson said he and a few friends decided to pool together to donate to Tyler's cause and launched the GoFundMe campaign with a fundraising goal of $2,500. Tyler's story moved so many people, however, as of Tuesday morning the campaign had raised more than $43,000 and people are still giving.
When asked where his work ethic came from, Tyler explained in a "Fox & Friends" interview that it came from his parents.
"When I was 7, I always made sure I stayed on top of myself, and after church on Sundays we would go downtown and feed the homeless and it just happened there with my parents," he said.
His advice to other teenagers is "just to always be a blessing to someone."
"We all go through different battles, so lean on one another and have compassion for one another," he explained.
As for what he wants to do with the rest of his life, Tyler said: "I would like to be an evangelist and travel around the world spreading my faith and the Gospel, and I want to work with young teens with leadership."
And to those who have been donating to his cause to help the homeless, Tyler added: "I'm very blessed and very grateful for this opportunity. Thank you for everyone that has been giving and supporting me. And it's very mind-blowing and I'm truly grateful for it," he told "Fox & Friends."