Televangelist Asks Followers for $79,000 to Do Paint Job on 'Lord's Jet' He Bought Last Year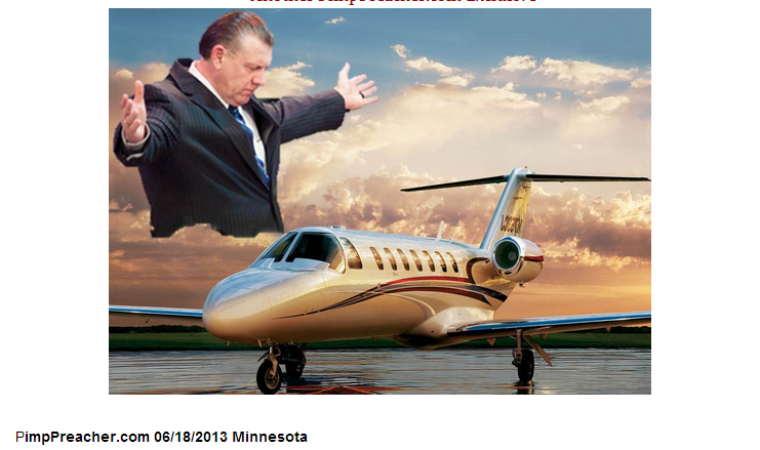 A televangelist out of Midland Michigan dubbed as the "Preacher of Righteousness" has asked his followers in a letter for $79,000 to repaint a luxury jet he says "actually belongs" to the Lord.
Dr. Mark Barclay of Mark Barclay Ministries sent out a letter dated May 2013, asking for $79,000 to repaint the Citation III 650 purchased by his organization in 2012 because the paint had started to chip, according to a recent report by PimpPreacher.com, a website with the tagline, "Exposing the Greed in Our Pulpits."
Depending on the year of the model and its overall condition, Citation III 650s can fetch prices well over a million dollars.
The Christian Post inquired of Mark Barclay Ministries on Thursday about their appeal to pay for the paint job and asked if they were still accepting donations. A representative confirmed the financial help request.
"We are still believing God to finish the project and we thank you for agreeing with us in prayer," said the representative.
In making his request for help to pay for the paint job, Barclay tried to incite his followers to give by quoting Matthew 6:19-21 about not laying up treasures for themselves.
"Lay not up for yourselves treasures upon earth, where moth and rust doth corrupt, and where thieves break through and steal: But lay up for yourselves treasures in heaven, where neither moth nor rust doth corrupt, and where thieves do not break through nor steal; For where your treasure is, there will your heart be also," Barclay quoted as biblical support for his jet paint fundraiser.
He then lays out a case to his followers about why the paint job is needed.
"We have noticed that the paint on this airplane is chipping in places – places where it has been spot-repaired in the past, just to help stop some corrosion," Barclay describes.
"We are faced with one of two decisions. We can spot-paint the aircraft (which is about one-third the cost of painting the entire aircraft), but we would need to continue to do that on an ongoing basis. Or we can paint the entire aircraft which costs about $79,000," Barclay says, lobbying strongly for the paint job.
"If we don't paint the entire aircraft, it will be at risk for ongoing corrosion issues. Corrosion is a dangerous enemy for an airplane and can eat up and ruin an aircraft, sometimes grounding it until it is resolved. We must avoid this at all costs," writes Barclay.
He then urges his followers to consider helping him pay for the paint job, insisting that God is the true owner of the plane.
"Please pray about any part God would have you do, for actually the airplane does belong to Him and not me and is used for His ministry and not personal use," he says, claiming that the jet is a necessity, not a luxury.
"There are reasons why ministries like mine MUST have an aircraft. I believe it is important for me to explain that the aircraft is far from a luxury item for me. Honestly, if there were any other way to fulfill my assignment, I would choose it!" he contends.
"If 80 people, ministries, or companies sow $1000, it will be taken care of. Some are not capable of doing that, I understand, but many can do much more. As we are led by the Spirit, I believe we will take care of this," he notes.
Barclay is the author of several books and is the founding pastor of Living Word International Church as well as president and founder of Supernatural Ministries Training Institute.