Televangelist Ernest Angley's Church, TV Station Sued for Defaulting on $3.6 Million Loan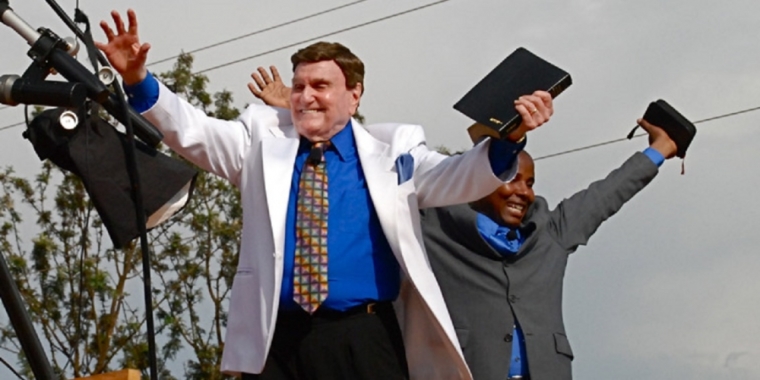 A church and television station overseen by televangelist and self-proclaimed faith healer Ernest Angley is being sued for allegedly defaulting on a $3.6 million loan.
Beck Energy Corporation, which loaned the $3.6 million to Angley's 3,000-seat Grace Cathedral and Winston Broadcasting Network in 2013, filed the suit on Nov. 29.
"Beck Energy ... is seeking damages and a foreclosure on the property that houses the television station in Cuyahoga Falls," reported the Akron Beacon Journal.
"The loan was supposed to be paid by Feb. 7, 2016. Beck granted a one-year extension, but this passed without the payment being fulfilled."
The energy company sent a letter to WBN in April, demanding payment, to which the 96-year-old Angley replied in July that it would come "in just a very short, short time."
"This didn't happen, however, and Beck sent a letter in September reiterating that the note was due. Angley again responded by saying he was preparing to pay the balance, but didn't follow through, according to the lawsuit," noted the Journal.
"Scott Zurakowski, the Canton attorney representing Beck Energy, said the church paid the interest on the loan, but not the principal, so it still owes $3.6 million."
The Christian Post reached out to Ernest Angley Ministries but did not receive a response by press time. 
The lawsuit that may result in the foreclosure of Angley's church is the latest in a string of controversial news stories about the televangelist's ministries.
In 2014, former members of Grace Cathedral accused Angley of running a cult which forced women to get abortions and men to get vasectomies.
For their part, both Angley and other members of his church denied the accusations, with one church spokesperson telling CP in 2014 that they were "a bunch of lies."
In March, U.S. District Judge Benita Pearson ruled that Angley must pay over $388,000 in damages and back wages to a group of employees the U.S. Department of Labor found were members of his church coerced into working as unpaid volunteers for his business, the Cathedral Buffet.
"Multiple witnesses testified that there was a time period, prior to 2012, when paychecks were being issued to the volunteers," ruled Judge Pearson.
"Volunteers were expected to endorse the paychecks in front of the Church secretary, Debbie Witzky, who would then hold on to those checks. Witnesses testified that they could not keep the checks."