Televangelist Paula White Says Donald Trump Wanted to Attend Prayer Vigil for Orlando Victims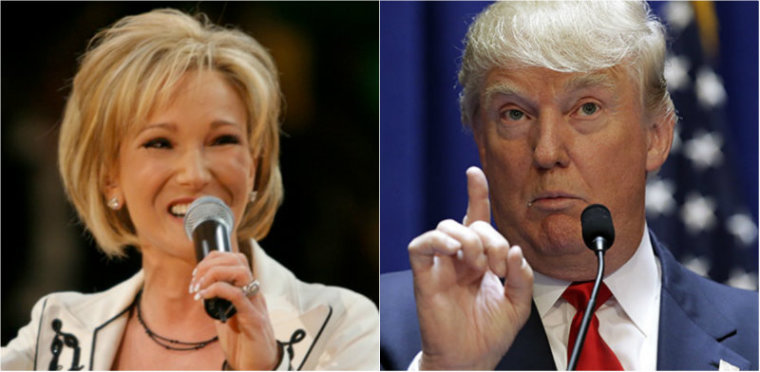 Orlando-based televangelist Paula White says presumptive Republican presidential nominee Donald Trump showed genuine concern and expressed interest in attending a prayer vigil for the victims of the Orlando massacre shortly after news broke of the tragedy on Sunday.
White, senior pastor of New Destiny Christian Center in Apopka, northwest of downtown Orlando, told Time magazine during an interview that Trump, who is a longtime friend, asked what he could do to help shortly after her early morning Sunday prayer session was cut short by news of the massacre.
Deceased gunman Omar Mateen used an assault rifle to kill 49 people and injure 53 more at a popular gay nightclub called Pulse located just 20 minutes away from White's church.
According to White, Corey Lewandowski, Trump's campaign manager, reached out to her on the presumptive nominee's behalf between New Destiny's morning worship services.
"'He'll be there if you need him to for a prayer vigil,'" White said, quoting Lewandoswki. "It was not, what can we do for political advantage, it was what can we actually do," she added. "His call to me was genuine concern, care and compassion."
White said she promised to keep Lewandowski abreast of the crisis as she mobilized members of her church and coordinated with local officials to respond to the massacre.
Her church embarked on a plan to stay open for 24 hours for three days after the tragedy for a time of prayer and fasting.
White also told Time that she did not see Trump's controversial tweets on Sunday in which he said he appreciated "the congrats for being right" on terrorism.
In his tweet after the massacre on Sunday, Trump said: "Appreciate the congrats for being right on radical Islamic terrorism, I don't want congrats, I want toughness & vigilance. We must be smart!"
Omar Mateen, the 29-year-old identified as the shooter in the massacre, has been described as an ISIS sympathizer.
"We are a very open-door policy," White told Time. "The bottom line is there is a crisis in our city, and there are hurting people."
Pastor Mark Burns of Easley, South Carolina, also told Time on Sunday that Trump's campaign reached out to him after the massacre.
Trump was asked to lead a prayer in Portsmouth, New Hampshire, on Monday evening. Even though the official campaign language called the event a campaign rally, Burns said the campaigning would be replaced by prayer.
"I'm thankful that Mr. Trump is sensitive to this horrible American crime that he has saw fit to pause from campaigning to pray for the victims and their families," Burns said.
Trump's campaign later cancelled the rally in a statement citing the tragedy.
"Due to the horrific tragedy that has just taken place in Orlando, Florida, Mr. Trump is postponing the rally scheduled to take place tomorrow in Portsmouth, New Hampshire. We will make it up in the near future. Mr. Trump will, however, deliver a major speech at St. Anselm's College tomorrow afternoon. He looks forward to returning to New Hampshire and discussing the serious threats facing all Americans and his solutions for making this country safe again," the statement said.