Prosperity Preacher Paula White Claims Billy Graham Gave Donald Trump 'Prophetic Word,' Signed Bible for 60th Birthday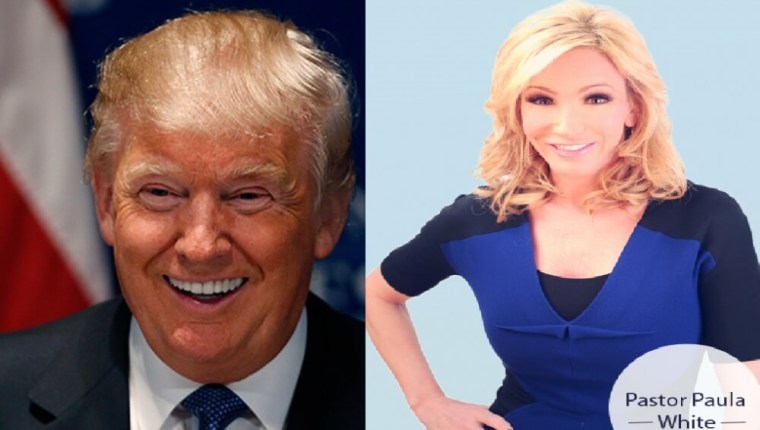 Prosperity gospel televangelist Paula White says evangelical icon Billy Graham signed a Bible and wrote a letter with a "prophetic word" in it for Republican presidential frontrunner Donald Trump for his 60th birthday.
She also said the candidate firmly believes that he is "saved" and noted that based on what she knows of him, Trump "needs to be our next president."
White who says she has been friends with the almost 70-year-old candidate for 15 years, made the comments at a large rally which attracted an estimated 10,000 people in Orlando, Florida, at the UCF CFE Arena on Saturday.
She vouched for Trump's bona fides as a believer before invoking the billionaire's association with Graham.
"Do you have a relationship with the Lord Jesus Christ? Are you saved?" White said of questions Trump has been frequently asked by Christian leaders in his circle.
"Emphatically it was always 'yes,'" she said.
Nearly 10 years ago as she was thinking about what to get Trump for his 60th birthday, she said she discovered that he had always wanted a signed Bible and letter from Graham and she got it done.
"I'll never forget on his 60th birthday I thought, what am I going to get you for your birthday?" she said.
"I found out that he really wanted a Bible that had been signed and a letter by Billy Graham. So for his 60th birthday, Billy Graham wrote a prophetic word and a letter to Mr. Donald Trump. Can you hear me here?" she asked the crowd. "I am saying that he loves God. So when you look at the fruit of his life, you see his children, you see the people around him."
White did not say what the "prophetic word" was that Graham wrote to Trump. The Christian Post reached out to both White and Graham for comment Thursday but replies were unavailable at the time this story was published.
The so-called "prosperity gospel" taught by White is considered heresy by most evangelicals. Also, most evangelicals do not support Trump, and many evangelical leaders, as well as this publication, have encouraged voters against supporting Trump's candidacy.
"We the senior editors of The Christian Post encourage our readers to back away from Donald Trump," CP urged in an editorial last month.
"As the most popular evangelical news website in the United States and the world, we feel compelled by our moral responsibility to our readers to make clear that Donald Trump does not represent the interests of evangelicals and would be a dangerous leader for our country," the editors charged.
"While God, in His wondrous creativity, has drawn people to Himself through the saving grace of Jesus Christ in many different ways, there are certain non-negotiable actions needed to become a Christian: One must repent of their sins and follow Christ as Lord and Savior. Trump doesn't talk this way, even when urged to," they added noting that his words and actions are not reflective of the "fruit of the spirit."
While the Billy Graham Evangelistic Association is yet to confirm White's claim, Franklin Graham, Billy Graham's son said Wednesday that he did not see any of the current presidential candidates in either party that he would endorse.
"I have no hope in the Republican Party and I don't have any hope in the Democratic Party," he said on Fox Business Network's "Varney & Co."
"I'm staying out of the race. The politicians have messed this country up big time. I'm unaffiliated [and] I'm independent. I'm just fed up with the politicians. I think the only hope for this country is God," he explained.
Reacting to Trumps rise in the polls ahead of other Republican candidates who have been known to speak more frequently about their faith, Frankling Graham said while his wasn't "shocked" by Trump's rise, he was "surprised."
"I don't want to say [I'm] shocked, but no question I'm surprised," Graham said. "Evangelicals are wanting a strong leader. They want someone who holds Biblical values, no question, [but] when it comes to politics, it's hard to find those.
"I think people are just looking for strong leadership and they are possibly seeing that, I think, with Donald Trump. No question, Donald Trump has tapped into that frustration."
White, who currently leads the New Destiny Christian Center founded by the late Zachery Tims Jr., said she believes Trump "needs to be our next president" to fight against threats to religious freedom.
"Most evangelicals are deeply concerned about the following issues: religious freedom, a clear understanding of religious freedom protection. We want to be able to do, life, family, church, college, seminary, religious life without influence from the government. Currently government outreach is destroying our ability to practice our faith according to our own conscience. And Christians have deep concerns that wholesale persecution is coming to the U.S," said White.
"After spending almost 15 years with Mr. Trump and sitting with him before hundreds of pastors, Mr. Trump is committed to protect our First Amendment, which includes the right to practice our faith, express our beliefs, and share our faith without personal reprisal or persecution," she continued.
"And part of making America great again would be to allow full freedom for Christian expression. That's why I am here, because Mr. Trump needs to be our next president," she added before encouraging the crowd to chant the billionaire's name.
She said when she first decided to build a relationship with Trump, her main objective was to save his soul based on what she had seen in the media of him. She discovered a different person after getting to know him outside media influence.
"I like many people have a perception because sometimes media. I know it's hard to believe in this day and age, can paint a picture that is not a reality. So I thought I would walk in and set the ground rules straight. And I met him and I said, 'Mr. Trump, I don't want your money I have enough of my own. I don't want your fame, I have enough of my own. I said 'I want your soul.' And he just looked at me and smiled and said 'we're gonna make a great team,'" said White.
"I found out that he loved God, that he grew up in a loving home…that his mother was a strong Christian, a strong woman of faith and a strong praying woman. You see I don't believe anything is coincidence. I believe there is such a thing as destiny and I believe that God will raise up a man for such a time as this," she said the cheers.
"Over the years we had many deep conversations about his faith, about God, about our nation, about life, about people. It was never about the presidency. This was a friendship. But here's what I want to share with you personally. I found a very caring man. I found a man who had more integrity than most people that I had encountered. A compassionate man, a man who is very strong to his core, I can tell you story after story," she added.
One of the stories she told was an interaction between Trump and a minister friend of hers called Debra.
"I took a friend in one day, she's a fellow minister and I wanted to introduce her. I said 'Mr. Trump, meet Debra, she's my friend, she lives in Texas,'" she said.
"We were up in his office on 5th Avenue. He goes, 'what kind of minister do you do.' She said I go out onto the streets and I minister to the prostitutes and I help rehab their life back into society. Next thing I hear, he says, 'Rhona, Rhona,' and he's calling and he said, 'get out our check book.' And he writes a large donation. He said, 'now that's real ministry. When you take care of those that are hurting,'" White recalled.