'Temptation' Movie Snags Third Place at Box Office, Tyler Perry Thanks Fans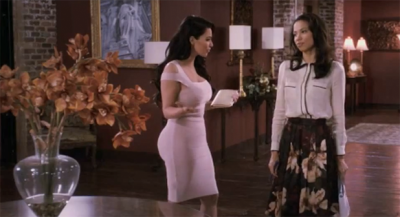 Tyler Perry's highly anticipated new film "Temptation: Confessions of a Marriage Counselor" made its debut at the box office Friday, and the drama-thriller landed in at number three over Easter weekend.
The film, which stars Jurnee Smollett-Bell and Kim Kardashian among others, grossed $22.3 million, reportedly exceeding expectations. The action-packed movie "G.I. Joe: Retaliation" took the no. 1 spot, with kids movie "The Croods" coming in at number two.
"[Temptation] is Perry's second-biggest opening non-Madea movie after the sequel Why Did I Get Married Too," E!'s Joal Ryan wrote.
Some critics anticipate that the film could go on to become the highest grossing Perry-directed film in which he is not also featured as an actor.
"Temptation" marks Perry's ninth film to debut over $20 million, putting the iconic film maker on par with the likes of Steven Spielberg and Robert Zemeckis. Both famous film directors are the only others to have reached Perry's distinction, according to CNN.
The numbers appear to have paid off for the film's distributor Lionsgate, with reports claiming the film cost approximately $20 million to make.
Perry, who wrote, directed and produced the film, was evidently pleased with the response and on Sunday he sent out a personal "thank you" email to fans.
"I just want to say thank you for going to see Temptation at the movie theaters. You have no idea what this means to me. After 14 movies you are still coming," Perry wrote.
'Temptation' explores the perils of infidelity and gives viewers elements of humor while teaching a valuable life lesson. In a recent interview with The Christian Post, Perry revealed the film's main message.
"This movie is about temptation," Perry told CP in an exclusive red carpet interview. "It's about making a bad choice [and] how one bad decision can change your whole life."