Tennessee Church Shooting: 1 Dead, 6 Injured at Nashville Church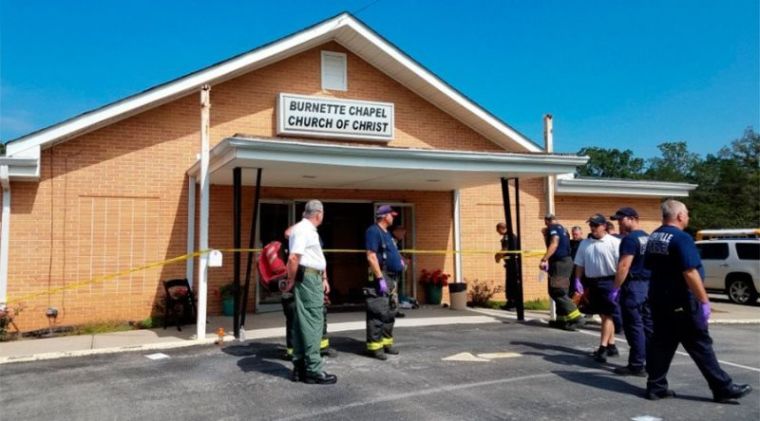 A masked gunman killed a woman in the parking lot of a Tennessee church on Sunday morning and wounded six worshipers inside the building before shooting himself in a scuffle with an usher who rushed to stop the attack.
The suspect, identified as Emanuel Kidega Samson, 25, walked into Nashville's Burnette Chapel Church of Christ wearing a ski mask and opened fire shortly after 11 a.m., spokesman Don Aaron of the Metropolitan Nashville Police told reporters.
As the church usher grappled with the suspect, he was struck in the head with the gunman's weapon before the suspect fired and wounded himself, police said. Although injured, the usher, 22-year-old Robert Engle, then retrieved a gun from his vehicle, re-entered the sanctuary and held the suspect at bay until police arrived.
"This is an exceptionally brave individual," Aaron said of the usher during a briefing outside the church in Antioch, about 10 miles (16 km) southeast of downtown Nashville.
Police had not determined the motive behind the shooting, but the spokesman said certain items were found that might establish why the man opened fire.
Samson was treated at a local hospital and released. He will be charged with murder and attempted murder, police said in a Facebook post.
Melanie Smith, 39, of Smyrna, Tennessee, was fatally shot in the parking lot, where she was found lying next to the suspect's blue sport utility vehicle, which was idling when police arrived.
Police said it was not immediately known if the suspect had any previous connection with the church, where about 50 people were worshipping when the gunman entered.
All but one of the wounded were over 60 years old and were taken to nearby hospitals, Joseph Pleasant, a Nashville Fire Department spokesman, told Reuters. He said at least some of the wounded were in critical condition.
The usher, who was "pistol-whipped," was also taken to a hospital, police said.
The church's pastor, Joey Spann, was shot in the chest and was being treated at a hospital, WKRN television news channel reported, citing the pastor's son. The Nashville Christian School, where Spann is a coach and Bible teacher, said Spann's wife was also injured.
Nashville Mayor Megan Barry said in a statement the shooting was "a terrible tragedy for our city."
Reporting by Frank McGurty and Jonathan Allen in New York; Editing by Mary Milliken and Peter Cooney