Tennessee teacher apologizes for creative writing assignment about killing someone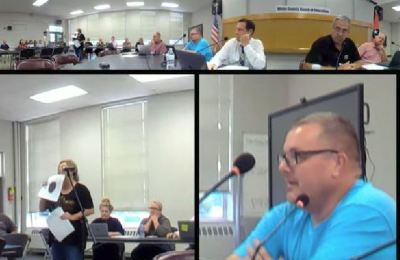 A Tennessee middle school teacher has apologized after giving her students an assignment in which they were asked to imagine the experience of committing murder. 
The macabre assignment first came to light after a parent at White County Middle School in Sparta, located about 75 miles east of Nashville, brought up the matter during a school board meeting on Aug. 10.
Shelly Davis, whose son is an eighth-grade student at WCMS, shared an image of a creative writing prompt that asked students to create a story based on the following lead-in: "I never meant to kill her. I only wanted to hurt her, but now her ghost follows me everywhere."
In her remarks to the board, Davis said the teacher gave students images to inspire their writing, including an image of a "woman with no face" and another image of windows with "maybe possibly blood laying around" the area.
"This is not a book. This is not something that they're studying. This was merely just for fun apparently," she told the board. "I don't know how you can make this to be fun. I don't know how you can make it enjoyable."
Davis said she was later told that officials discussed the matter with the teacher — whom they have not publicly identified — and "she was told that she couldn't do it again."
In her comments to the board, Davis warned that if her son's writing "fell on the ground and another kid come and pick that up, that kid would go to office," she said. "That kid would probably get expelled. That kid would probably have to be investigated."
In a statement to The Christian Post, White County School District spokeswoman Candice Allen said the teacher issued an apology to students and that Principal Montuka Murray "handled the situation."
While Allen confirmed that students and parents "who were directly affected were addressed by the teacher," she declined to comment on specific disciplinary action.
In a public apology letter, the teacher — whose name is redacted — said she now realizes the writing prompt was "wholly inappropriate and insensitive."
"My intention behind the prompt was to encourage innovative and unconventional thinking among our students," she wrote. "I was driven by the desire to present a unique challenge, but I am acutely aware that this motivation clouded my judgment and led me astray from my primary responsibility: the well-being and emotional safety of my students."
After asking for forgiveness "for any distress or discomfort," she apologized to all parents affected by the assignment.
"I am profoundly sorry for the concern and worry this incident may have provoked," she said. "I thank you for your grace and understanding as I work to rectify this situation. 
"I also want to assure you that I take full responsibility for my actions."
WCMS is part of the White County School District, which is made up of eight schools and about 4,000 students from pre-kindergarten through 12th grade.