Tennis star Coco Gauff gives glory to God after second major win in 2 weeks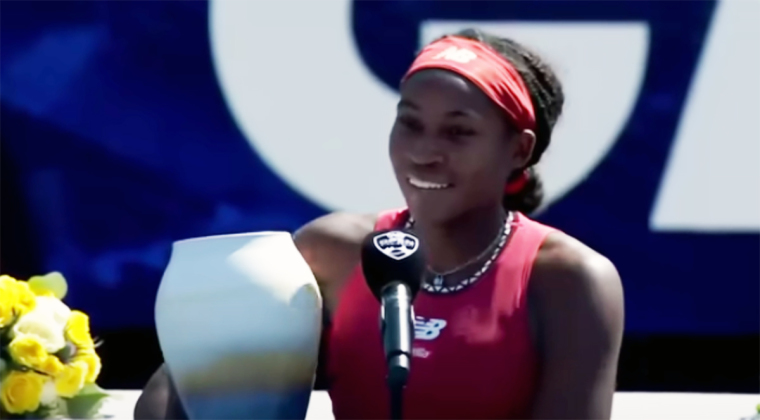 A tennis star is expressing gratitude to God after winning her second major competition in two weeks. 
American tennis player Coco Gauff became the 2023 Western & Southern Open Women's Single Champion after winning a match at the annual tournament in Cincinnati, Ohio, on Sunday. In remarks following her victory, she declared, "I would like to thank my Lord and Savior, Jesus Christ."
"I spent a lot of nights alone, crying, trying to figure it out," the 19-year-old athlete added. While acknowledging that she still had "a lot to figure out," Gauff proclaimed, "I thank Him for covering me."
Gauff also showcased her Christian faith in an Instagram post celebrating her victory over the Czech Republic's Karolina Muchova in the Women's Tennis Association 1000 event. "Most importantly, thank you, God, for always keeping me covered," she wrote. 
Sunday was not the first time Gauff has given thanks to God for her athletic accomplishments. After winning the Mubadala Citi DC Open women's final two weeks ago, the tennis player said, "I'd like to thank my Father, God for this."
Noting her loss at the Wimbledon tournament in the previous month, Gauff credited "a lot of prayer and a lot of support from my church family" with enabling her to secure victory at the tennis match: "Thank you to Him and those who support me."
Gauff previously discussed the importance of her faith in a 2019 interview with The New York Times. She discussed how "before every match since I was 8, my dad and I say a prayer together."
"We don't really pray about victory, just that me and my opponent stay safe," the then-15-year-old insisted. Gauff told the publication that after she defeated her idol Venus Williams at that year's Wimbledon Match, she "was just thanking God for this opportunity."
Gauff's victory over the famed tennis star came in the same year that she became the youngest woman to qualify for Wimbledon in the tournament's history, while Williams was the oldest player to qualify for the annual open that year.
Three years later, in an interview with The New York Times Magazine, Gauff reiterated that she and her father pray before every game for the health of both herself and her opponent. She contended that "it would be stupid to waste a prayer on results."
Gauff acknowledged Muchova in her victory speech Sunday: "I would like to congratulate Karolina on an incredible run this tournament. I've always been watching you and seeing that she's such an incredible player. It's … good to see you healthy on tour. I think you're going to keep going. I'm sure we're going to have many more tournaments like this and, hopefully, on an even bigger stage than this one. So, congrats to you and your team over there for all the progress that you guys have made."