Tennis star Coco Gauff thanks church family, God for biggest win of her life at Mubadala Citi DC Open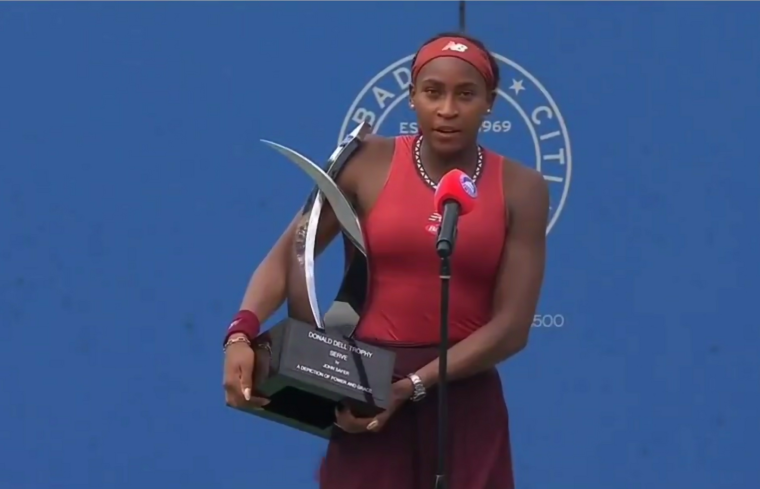 Nineteen-year-old American tennis star Coco Gauff publicly thanked God, and her church for helping her overcome her first-round loss at Wimbledon last month to win the Mubadala Citi DC Open women's final on Sunday where she beat Greek World No.9 Maria Sakkari 6-2, 6-3 in impressive fashion.
"First, I'd like to thank my Father, God for this. After losing in first-round Wimbledon it was a tough situation," she said. "You know, a lot of prayer and a lot of support from my church family. So thank you to Him and those who support me."
Gauff, who is a member of the historic Saint John Missionary Baptist Church in Boynton Beach, Florida, has previously talked about the importance of her faith and church family in her life.
In a New York Times Magazine piece, Gauff spoke of her father, Corey Gauff, and revealed how he would pray with his daughter before each match for the health of both players.
The teenage star told the publication that it would be "stupid to waste a prayer on results."
Gauff first made major headlines in 2019 when she became the youngest qualifier in Wimbleon's history, by winning her first-round match against the formidable Venus Williams, a five-time singles champion at the tournament and she gave credit to God then as well.
"Before every match since I was 8, my dad and I say a prayer together," Gauff revealed to NYT Magazine. "We don't really pray about victory, just that me and my opponent stay safe. After the match, I was just thanking God for this opportunity."
Gauff in a statement cited by the DC Open, explained what her first WTA-500 title, which was her fourth title overall in her career, means to her.
"It means a lot to me really," she said. "Any American tournament I think is special, but I feel like even more here. I have played Cincinnati and I have played other tournaments in the U.S., even last year in San Jose when this was in San Jose, but I think that there is just something about D.C."
With the help of her new team to support her development as a player, including new coach Pere Riba, and team consultant Brad Gilbert, Gauff has been able to address weaknesses in her game like her forehand and footwork.
"We all know that her forehand was always her weaker shot. I feel like now she's improving that. She's making more balls. She's working on that," Sakkari, 28, who had beaten Gauff four times before Sunday's match, said about Gauff's improvement. "Mentally she looks a lot more mature. She knows what she's doing on the court."