Tens of Thousands March in Spain Against Abortion, Pressure Government to Restrict Practice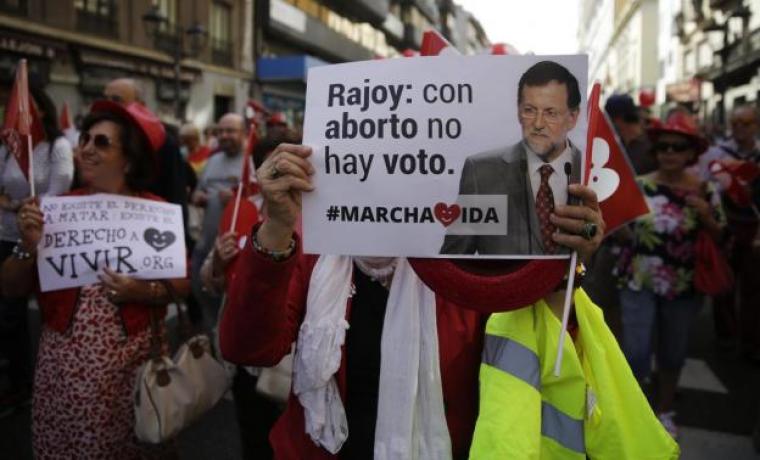 Tens of thousands of pro-life supporters marched in Madrid on Saturday, threatening to throw the Spanish government out of office in the elections next year unless it moves forward with legislation restricting the controversial practice.
The demonstrators waved white flags with the slogan "Every life counts" as they marched through the capital, and started chants such as "Killers! Abortionists!" and "Yes to life, no to abortion," AFP reported.
The protests are aimed at the government of Prime Minister Mariano Rajoy, who had promised to tighten Spain's abortion laws when he was elected in 2011, but has so far failed to implement such a policy. A proposed plan to ban elective abrtions was shot down in September following opposition and dissent within Rajoy's Popular Party.
The dropped proposal sought to limit abortion only to cases of rape or when the mother's life is at risk, BBC News reported. Currently, abortion, which was legalized in Spain in 1985, is only permitted within the first 14 weeks of pregnancy. In 2010, the law was also broadened to allow abortion in the first 22 weeks in cases of fetal deformities.
"As president of the government, I have taken the most sensible decision," Rajoy said in September, when announcing that the government will work toward stopping 16 and 17-year-olds from undergoing an abortion without parental consent.
"We'll continue working toward cohesion but we cannot have a law which will just change when the next government comes in," he said.
The pro-life protests have been supported by the Roman Catholic Church, the largest religious body in Spain, though pro-abortion women's groups have staged pro-abortion protests in opposition to tightening such laws.
Many who voted for Rajoy have said that they feel betrayed by the prime minister's lack of action, however, and warned that they may not vote for him again.
"I am disappointed. This may change the vote," said Jose Vicente Romero, a 55-year-old PP supporter who participated in Saturday's march.
"Abortion is not a right. Abortion is a tragedy," Romero added.
Amparo Bonastre, a 17-year-old student, added: "It does not affect me personally because I would never have an abortion. But if there were a reform, lots of people would be allowed to live, without having their lives cut short," she said. "Life must be defended."