Tens of Thousands of Palestinians Flee as Israel Airstrikes Continue; Over 170 Killed in Gaza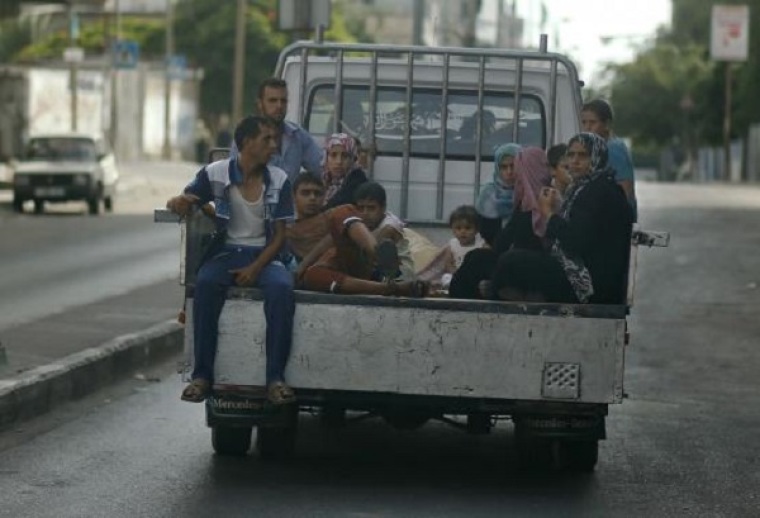 The Israeli-Hamas military conflict continued to escalate over the week, with Israeli airstrikes in response to rocket attacks driving Palestinians from their homes in Gaza.
Close to 17,000 Palestinians have fled their homes in northern Gaza and reached United Nations shelters, with officials sharing that at least 172 people have been killed and more than 1,250 wounded since last week.
Israel's military has been exchanging fire with Islamic militant group Hamas, with close to 1,000 rockets being fired from Gaza by Monday morning. BBC News reported that the mass evacuation in Gaza followed Israel's warning that it is prepared to launch a ground invasion.
The U.N. has said that close to 77 percent of the people killed so far in Gaza have been civilians, based on information by Palestinian Health authorities. Israeli Defense Forces (IDF) spokesman Lt-Col Peter Lerner has said that Israel is targeting "terror sites" and the homes of senior operatives, but has aborted certain attacks for fear of killing civilians.
"We do not wish to harm civilians in Gaza, but these civilians must know that remaining in close proximity to Hamas terrorists and infrastructures is extremely unsafe," the IDF said.
The hostilities intensified earlier in July after three kidnapped Israeli teens were found dead, with Israeli Prime Minister Benjamin Netanyahu blaming Hamas for the murders. Only days later a 16-year-old Palestinian-American from east Jerusalem was abducted and killed, in what authorities believe is a revenge slaying. Both Hamas and the Israeli government have vowed revenge for the murders.
"All sides ... must respect the sanctity of civilian life," urged Chris Gunness, spokesman for the United Nations Relief and Works Agency for Palestine Refugees.
Israel has refused calls for a cease-fire, CNN reported, insisting that it will continue its offensive as long as Hamas keeps firing rockets into its territory.
"Hope for peaceful resolution seems to be even further away," noted German Foreign Minister Frank-Walter Steinmeier in a statement.
"Nevertheless, in this crisis we must establish dialogue with the political decision makers," said Steinmeier, who will hold meetings in the region in the coming days. "That is why, above all, it is about ongoing talks in Amman, Jerusalem and Ramallah."
U.S. Secretary of State John Kerry has spoken with Netanyahu by phone and "condemned the rocket attacks from Gaza into Israel, and stressed Israel's right to defend itself," a senior State Department official said.
Kerry added that the U.S. is prepared to help facilitate a cease-fire.
Pope Francis has also spoken out on the issue, and appealed for prayers for peace at the Angelus prayer on Sunday at the Vatican.
The Roman Catholic Church leader called on all parties involved or interested in the conflict, both on a local and on an international level, not to "spare their prayers" and efforts to achieve the cessation of all hostilities.
"Prayer helps us not to be conquered by evil or to resign ourselves that violence and hatred may prevail over dialogue and reconciliation," the pontiff said, according to Vatican Radio.
The last intense exchange of hostilities between Israel and militants in Gaza was fought over an eight-day period in November 2012, dubbed "Operation Pillar of Defense" by the IDF, which ended in a truce.