Conservative Questions Validity of Term 'Same-Sex Marriage'
Homosexual, same-sex or gay; depending on who you are talking with, people use different words to describe the attraction of two people of the same sex. In a recent blog post, Dr. Jennifer Morse of the Ruth Institute outlined the reasons she believes "same-sex" is not a term that should be used when describing marriage.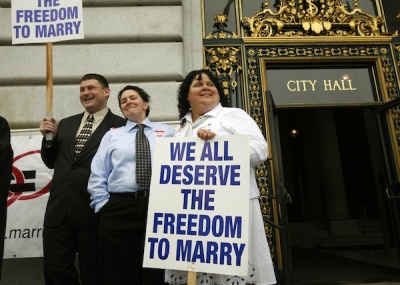 "You may have noticed that I do not use the term "same-sex marriage" very often," Morse wrote. "In fact, I am making a conscious decision not to use the term at all any more. I think the term gives away to much ground to our opponents [homosexual activists]. Continually using the term makes it possible to believe that such a thing as a marriage between people of the same sex is possible."
The Ruth Institute, which Dr. Morse founded, is a project of the National Organization for Marriage – which seeks to promote life-long married love to college students by creating an intellectual and social climate favorable to marriage. She is also the author of three books, one of which is, Smart Sex: Finding Life-long Love in a Hook-up World.
In an interview with The Christian Post, Morse outlined her position in terms used to describe marriage.
"To say we're fighting about same sex marriage – as if there were such a thing, gives into the premise that two men or two women can be married. That's simply not possible," Morse elaborated.
Morse makes the point that many proponents of traditional marriage stand behind. Marriage is and can only be between and man and a woman. To use the word "marriage" for any other purpose is to misuse the term.
Instead, Morse advocates using the phrase "redefinition of marriage" or so-called same sex marriage, "or, depending on the context, "genderless marriage."
"People who are attracted to someone of the same sex and advocate for some type of 'marriage' are not seeking marriage 'equity,' they want to redefine marriage and that's where we're coming up short, We're allowing that to happen."
After posting her initial blog earlier this month, Morse received a number of comments from individuals who took issue with her statement. One, who commented under the name Ken, left the following comment:
"This discussion about terminology is illogical…"It is not a matter of opinion, it is a factual reality and calling a marriage between two people of the same gender 'pseudo-marriage,' when it is in fact just as legally valid as ay man-women marriage is simply an attempt to insult committed gay and lesbian couples and trivialize their relationships."
Another unidentified reader posted similar comments. "The definition of marriage that you are using [one man, one woman] has not existed for centuries. But only for half a century. Until 1967 – it meant not marrying someone of a different race. Marriage has evolved. It's just taking the next logical step."
One point Morse wants to emphasize is the how homosexual activists want to further strip away the Biblical foundation of marriage.
"We're getting to the point that marriage doesn't mean anything," said Morse. "It could even mean that two people, regardless of their sexual orientation, may want to 'marry' for the sake of convenience or to receive government benefits or the like. That is not what God intended for marriage."
Bobbie Patray, a long-time volunteer activists and lobbyist with Tennessee Eagle Forum said she never uses the term "gay" when referring to homosexuals.
"The original definition of 'gay' was someone who was bright, happy and cheerful. I don't find anything about two people engaging in sexual activity with another person outside of traditional marriage to be anything but sinful. I certainly don't find anything happy or cheerful about it."
Chris Sanders is the Nashville committee chair for Tennessee Equality Project, a group whose goal is to advocate for and project the civil rights of lesbian, gay, bisexual and transgender citizens and their families in Tennessee, said the use of certain phrases was not his group's focus.
"We're not as worried about terminology as we are about the quality of the relationships," Sanders said. "We feel that two people of the same sex who are in love have ever right to marriage someone as do a man and a woman."
Dr. Morse's blog site is http://ruthblog.org.