Texas Court Defies State's Ban on Gay Marriage, Marries Lesbian Couple Under Order From Judge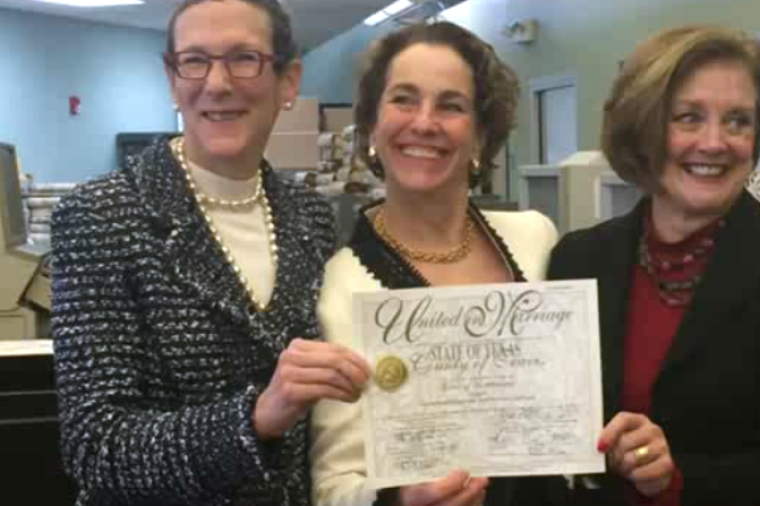 A Texas county court legally married two women under a one-time court order on Thursday, despite the fact that the state currently has a ban on same-sex marriages.
After Travis County Probate Judge Guy Herman ruled on Tuesday that Texas' ban on same-sex marriages is unconstitutional, state District Judge David Wahlberg, two days later, issued an order for Travis County Clerk Dana DeBeauvoir to grant a marriage license to an Austin lesbian couple due to medical urgency.
After Sarah Goodfriend, who has been diagnosed with ovarian cancer, and Suzanne Bryant were issued their marriage license by the court on Thursday morning, their 72-hour required waiting period was waived and they were later joined in matrimony by Rabbi Kerry Baker in front of the county clerk's office building, The Austin American-Statesman reported.
Goodfriend and Bryant were in a relationship for nearly 31 years and are now legally recognized as married in the state of Texas.
"Having faced a life threatening disease, I realized time is precious and that I wanted to spend it on the things that mattered most — my family," Goodfriend told the San Antonio Express News.
Bryant said before the wedding that she was excited to make history as the first gay couple to legally marry in Texas.
"It's very exciting," Bryant said. "My little one was worried about missing her history class. I said we'll be making history."
The clerk's office issued in a statement clarifying that Wahlberg's order only applies to the one couple and the court will not issue any more same-sex marriage licenses until more clarification is provided in regards to Herman's Tuesday ruling.
"We are all waiting for a final decision on marriage equality. However, this couple may not get the chance to hear the outcome of this issue because of one person's health," the statement explains. "The Travis County District Judge has ordered the County Clerk to act now in issuing a license for this medically fragile couple."
Jonathan Saenz, president of the statewide social conservative organization Texas Values, blasted the court's order and said the order is yet more evidence that that judicial activists don't "play by the rules" when promoting their own agenda.
"The Texas Supreme Court needs to step in immediately and put a stop to this lawlessness and clear disrespect and defiance towards our marriage laws," Saenz said in a statement. "This rogue ruling is just more evidence that supporters of redefining marriage refuse to play by the rules and some judges and clerks will do anything to advance their own agenda."
"This is exactly why state legislators are working on laws to hold government officials accountable when they violate our Texas marriage laws," Saenz added.
Texas Attorney General Ken Paxton filed a motion with the Texas Supreme Court late Tuesday evening asking the court to overturn judge Herman's ruling and reaffirm the state's ban on same-sex marriages.
In a Wednesday statement, Paxton said that the judge's "misguided ruling does not change Texas law or allow the issuance of a marriage license to anyone other than one man and one woman."
"We are grateful for today's actions by Attorney General Ken Paxton who is standing up for the citizens of Texas after they clearly and constitutionally recognized marriage as being between one man and one woman," Another Saenz statement reads. "We must continue to send a strong message to every judge in Texas that the people of Texas expect our marriage laws and state constitution to be respected."