Texas pastor on how churches can do better when reaching out to homosexuals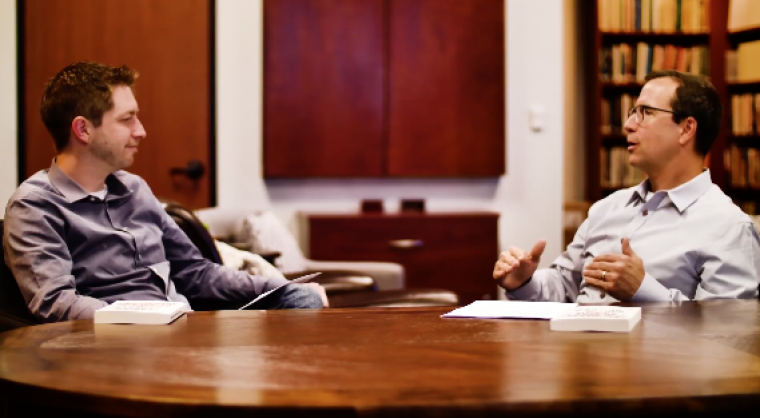 For many Christians, the Bible is clear on homosexuality: it's a sin. But there's a real struggle among believers on how their convictions should play out when engaging with homosexual persons.
How welcoming should churches be without compromising their beliefs? Should church membership be open to homosexual persons? How should parents respond to their child coming out as gay? How do you know when to apply grace and when to apply truth?
As a pastor, Bruce Miller empathizes with those struggles.
He recalled in a webcast this week that he became friends with a lesbian who decided to attend his church, Christ Fellowship Church in McKinney, Texas. He welcomed her to Thanksgiving meals at his house, where she felt loved and said that she never experienced a "healthy family" before. 
After joining a small group, she revealed her personal story and the group just loved her, Miller said. They also laid hands on her and prayed with her. It was a powerful expression of love and she was moved by it.
All the while, she was having tough conversations with Miller. She would ask him if he would really welcome her to his church if she were to meet another woman, considering he would not officiate her same-sex wedding. While Miller affirmed that he would not officiate, he still welcomed her to church and said "we can sing praises to Jesus together."
The woman has since moved to another state.
"It's been a struggle," Miller admitted. "It was difficult."
But to him, it was all about caring for the individual person and loving that person.
The Texas pastor is still trying to think through the polarizing issue but he feels churches need to start owning up to all the ways they have failed homosexual persons.
The common public narrative is that "Christians hate gay people" or that they condemn homosexuality as the "worst sin," he lamented.
"You want to show the love of Christ to people and yet our history, if we're honest, hasn't been so good. Churches in America, generally speaking, … failed in the AIDS crisis. … The church really wasn't there to go care for people. Many churches have not been welcoming, far from affirming. Gay people have come to churches and not been treated so well. We've got to own that.
"In some ways, gay people themselves are like a lost people group in the way that the church has treated them."
When he invites gay people to church and tells them they're welcome to come, the common reaction is: Are you for real?
So Miller, who believes marriage is between a man and a woman, encourages churches to "go overboard" in communicating their welcome to homosexual persons, considering the history.
"What's really hard to convince someone of is that we really love you, that we really want you to come and hear about the grace of the Lord Jesus Christ," he said.
"We've got to bend over backward to show the unconditional love of Christ and the amazing love and grace of the Father to hurting people."
Miller is the author of the newly released book, Leading a Church in a Time of Sexual Questioning: Grace-Filled Wisdom for Day-to-Day Ministry. He's convinced that this is "probably the hottest social issue of our day in America."
And Christians need to tread carefully because the younger generations are "keenly watching how churches respond in this issue, frankly how we treat their friends by what we say and do," Miller warned.
It's important to be clear about one's theological convictions but at the same time, "it's important that we don't throw stones at each other and give each other the grace to sort this issue out," he noted.
He acknowledged that many Christians are apprehensive about being too welcoming. They fear that gay people will take over the church or push a gay agenda, Miller said, reflecting on conversations he has had with some church leaders.
He doesn't dismiss those fears. But he tries to assure them that they are not going down a slippery slope and that they are firm in their theological convictions.
"People get really nervous that love is going to compromise truth and it doesn't," he said. "Hugs don't compromise theology. We can love people unconditionally without diminishing truth. It's not that we want to push truth down to have more grace … Jesus came full of grace and truth. We need to have 100 percent of both."
At the end of the day, Miller contends that this is not a Gospel issue — where one's salvation is at stake.
"Is it an issue about your eternal destiny? I would say it's not," he maintained.
"This is not quite at the same level as the deity of Christ, as the Gospel of salvation by grace through faith. It's an important issue but it's a place where we can give people grace to grow, grace to struggle as we reach out and love them."
Miller tries to help fellow believers recognize "that the ground's all level at the foot of the cross — we're all sinners — and to move to that space so that we're not trying to treat folks who are sinning in this area of their lives differently than we treat someone else. It's really all the same."
When it comes to practical application such as whether a church should allow membership for homosexual persons, Miller offered this advice: consistency.
If the conditions for membership include trusting in Christ, joining a small group, giving financially and serving, then make sure those conditions apply to all persons, he suggested.
"If a person affirms all those, are you going to add another question? 'By the way, are you gay?' Or other sin tests?" he posed. "We don't want to have a double standard."
Moving forward, Miller hopes Christians can create churches that are "safe refuges for people to share their stuff" and "places of grace where people can share their woundedness."
A church, he said, should be like a loving family (where there's all sorts of people within) and serve as an open table where everyone — including the hurting and struggling — can eat together.