Texas Rangers' Matt Bush Leans on God to Overcome 'Demons' of Alcoholism After Prison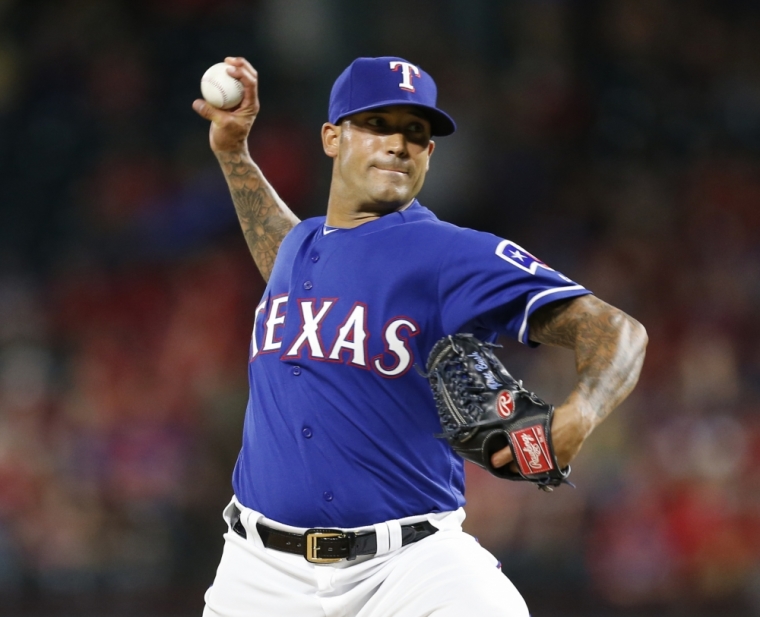 There is more than a World Series championship at stake for Texas Rangers pitcher Matt Bush who has had to battle his demons and cling to God just to step onto the mound each day.
Bush, 30, is an alcoholic who was sentenced to four years in prison after a 2012 hit and run accident that occurred while he was under the influence and nearly killed a senior citizen. After serving 39 months of that prison sentence, the pitcher was given a shot on the Rangers team last month.
Now, he is vowing to keep his focus on staying sober by regularly attending his 12-step meetings and leaning on God.
"It's no fun living in that sorrow, that spiralling downfall. In the past, I wanted to do everything on my own, and it always failed that way," Bush said in an interview with USA Today. "This time, I leaned on God for the help and support, allowing the (Rangers) organization to help me, give me guidance and structure."
The pitcher, who attends chapel service with his teammates, admitted that he had some demons to battle.
"I've always had the talent, and have always loved this game but I had demons that have held me back. Now, I've got another chance," he said. "I'm not the same person I was. I don't ever want to be that person again."
Roy Silver, the Rangers' special assistant of player development, has helped Bush adjust to other changes in his life to keep him accountable. When Bush is home, he lives with his father, and when he's on the road, he shares a hotel room with Silver.
While Silver recognizes the risk involved in Bush going straight from prison to the major leagues, he is also leaning on faith for guidence in Bush's situation.
"There are no guarantees. We are not naive, something could happen," Silver told ESPN in an interview back in April. "This is life. But you hope and you pray and you pray and you hope, and you choose to have faith and believe.
Years after bouncing around from the Padres, to the Toronto Blue Jays and the Tampa Bay Rays because of his alcohol issues, Bush is grateful to be given another chance to play baseball.
"I'm sober. I like myself now. Really, it's the happiest I've ever been in my life,'' he said. "I know I hurt a lot of people over the years. Now, I want to make them proud, and being here on a first-place team like this, it's like a dream."