Texas Rangers save 6-m-o baby smugglers threw into Rio Grande after breaking mom's leg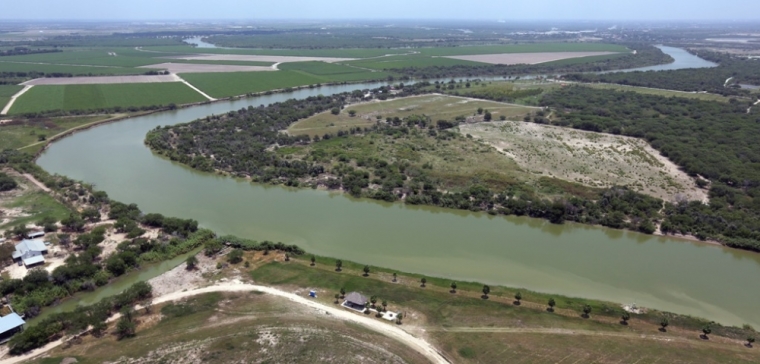 Texas Rangers saved a 6-month-old baby girl from drowning in the Rio Grande River after illegal smugglers threw her out of a raft along the Texas-Mexico border. 
The highly-trained special operations tactical team assisted U.S. Border Control agents with the rescue mission to save the baby on March 16 in Roma as part of Operation Lone Star, the Texas Department of Public Safety of the South Texas Region announced in a Facebook post Tuesday. 
The Texas Rangers often conduct missions along the southern border region in remote areas where conventional law enforcement cannot operate. They are instrumental in disrupting criminal activity usually associated with drug cartels.
The smugglers who threw out the child assaulted the child's mother in Mexico, which resulted in a broken leg, the department reported.
Due to the recent surge of immigrants at the southern border, border agents are overwhelmed in securing the border and monitoring illegal operations.
Texas launched Operation Lone Star on March 6 to combat drug smuggling and human trafficking into Texas in the wake of the surge. The operation combines the efforts of DPS and the Texas National Guard to hinder cartels from moving drugs and people across the border.
"The crisis at our southern border continues to escalate because of Biden Administration policies that refuse to secure the border and invite illegal immigration," Texas Gov. Greg Abbott said in a statement at the time.
During a news conference after a helicopter tour of the Rio Grande, Abbott said President Biden's border approach "invites illegal immigration" and creates a humanitarian crisis.
"There is a crisis on the Texas border right now with the overwhelming number of people who are coming across the border," Abbott said, according to the Caller Times. "This crisis is a result of President Biden's open-border policies." 
U.S. Customs and Border Protection reported over 100,441 southwest border enforcement encounters in February 2021 and 78,442 encounters in January. This is compared to 36,687 from February 2020 and 36,585 encounters from January 2020.
"The border is wide open … it's not secure. Drugs are pouring in, and criminal aliens are pouring in right now," former CBP Commissioner Mark Morgan, who served under President Donald Trump, said during a March 30 press conference along the Rio Grande, according to The Epoch Times.
Morgan said CBP apprehended more than 150,000 individuals illegally crossing the border in March alone. Nationwide drug seizures also increased 50% in February compared to January 2021.
This includes a drastic increase in fentanyl seizures, which is more than 360% higher than this time last year.
The U.S. is set to receive more migrants at the border than any time in the past two decades, Secretary of Homeland Security Alejandro Mayorkas said in a March 16 statement.
Republican senators visited the border in Texas last week to examine the crisis as well as the accelerating threat of drugs and criminals able to move across the border undetected due to the overwhelmed and overcrowded shelter facilities.  
There are around 17,000 unaccompanied migrant children in U.S. custody as the Department of Health and Human Services rushes to open emergency facilities, CBS News reported.
A CBP facility in Texas' Rio Grande Valley, the largest facility for unaccompanied children, holds over 4,100 migrants, 3,400 of whom are children, The Associated Press reported Tuesday. Under social distancing guidelines, the facility is meant to hold 250 people.
Over 500 migrant children were crammed into rooms designed for 32 people.
In another Texas migrant shelter, a lawyer reported that children have to take turns sleeping on the floor due to a lack of space. 
With the high volume of immigration, CBP agents are forced to detain unaccompanied minors, which they were not intended to do.
Biden halted the Trump administration's southern border wall construction on his first day in office in a frenzy of executive orders to reverse many Trump-era policies. He appointed Vice President Kamala Harris to spearhead the effort to address border and immigration challenges last week.
Harris' chief spokesperson Symone Sanders told reporters on Friday that "the vice president is not doing the border" but will instead deal with the root cause of migration through diplomatic efforts with Central American countries.
Sanders said Harris plans to visit the border but has no trip planned. 
When a reporter asked Harris on March 22 if she had plans to visit the border, she laughed and said, "Not today."
"I have before, and I'm sure I will again," she said. 
The Biden administration recently allowed reporters some access into border facilities after being pushed by Republicans and Democrats for greater transparency.