'The Bible' Episode 5: Jesus, Holy Spirit, Stephen, Paul, Luke
With the power of the Holy Spirit, the disciples go to the temple and on the way Peter meets a lame beggar and he tells him "I don't have silver or gold, but what I have I'll give you. In the name of Jesus Christ, our Lord and Savior, rise up and walk." Peter helps him up and the beggar is able to walk.
Peter and Stephen are brought to Caiaphas along with the beggar for preaching about Jesus, but both of them refuse to stop preaching. The next scene Stephen is preaching about Jesus in the street and Paul incites the people to stone Stephen and he becomes the first martyr.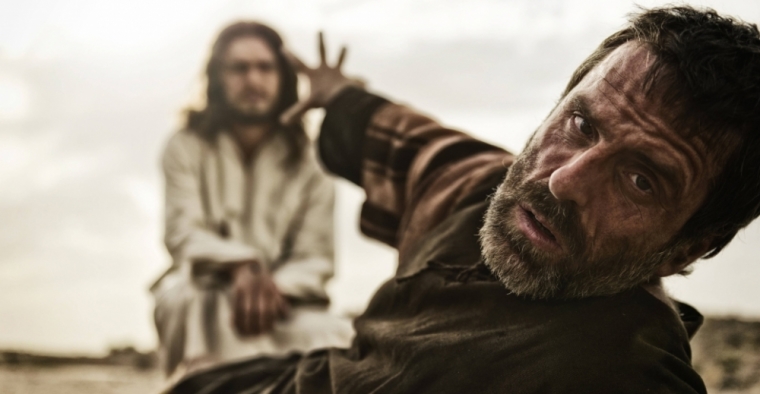 Paul is shown to be more violent and extreme than even Caiaphas, and he uses Caiaphas' men, money and power to beat up followers of Jesus. On his way to Damascus to persecute more Christians, Jesus appears to him and he goes blind.
Then Ananais follows Jesus' order and finds Paul and heals his eyes. Paul holds onto Ananais' leg and begs to not leave him. Ananais then baptizes him suddenly with water and Paul realizes his commission is to proclaim the name of Jesus.
James, brother of Apostle John, is captured and beheaded as the disciples watch. They decide that even though they are not afraid of death, they should disperse because if they are all dead they cannot proclaim the name of Jesus.
Paul preaches to a skeptical crowd who know his past as a persecutor, but among them is Luke, who joins Paul in his ministry.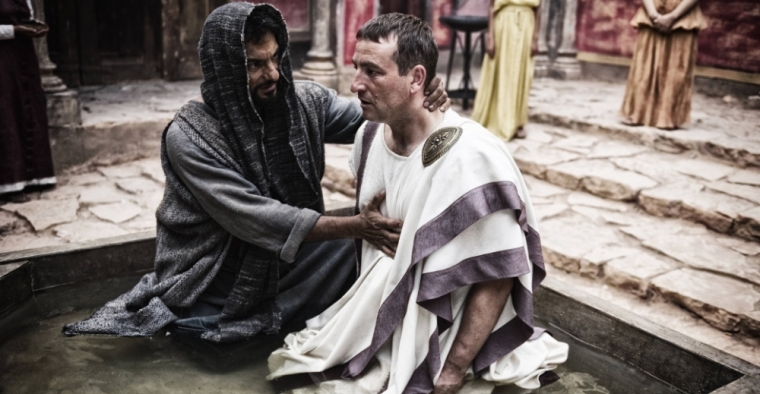 Peter is brought to the house of Cornelius by a Roman soldier, and Cornelius tells Paul an angle has come to him and told him to find Peter. Peter baptizes Cornelius, who is the first Roman to be baptized in the name of Jesus, and his whole family.
One of the last scenes is Paul dictating to Luke Romans 5:3-5: "Because we know that suffering produces perseverance; perseverance, character; and character, hope. And hope does not put us to shame because God's love has been poured out into our hearts through the Holy Spirit, who has been given us." But the scenes with Paul are spliced with that of Peter being beaten bloody for preaching the Gospel.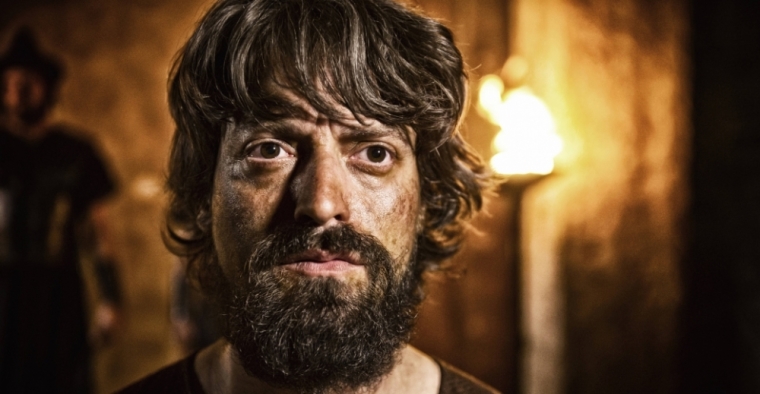 A narrator says that all the disciples died for the cause, with Peter crucified upside down in Rome, Matthew killed in Ethiopia; Thomas in India, and John poisoned in Rome. Paul was beheaded by the Romans. But they failed to kill Apostle John through poison, and instead exiled him and it's in exile that he wrote the final book in the Bible, Revelation.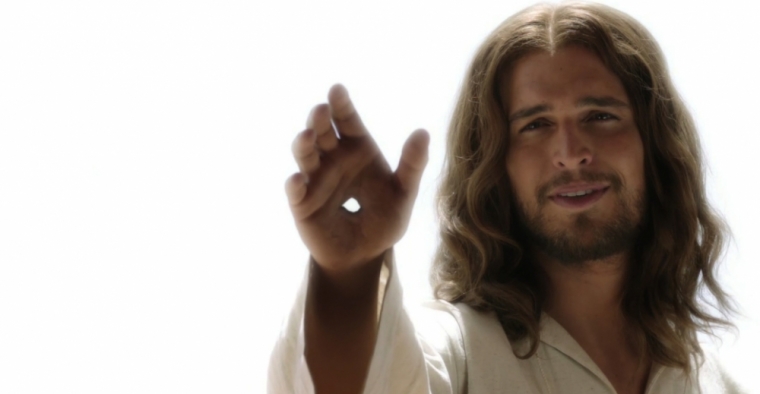 THE BIBLE - Extended Look