'The Bible' Exec Fired From $6M Job for Sexting With Escort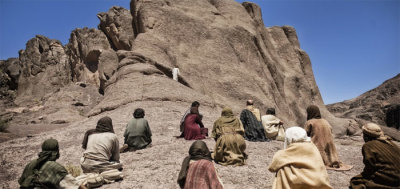 Executive Producer of the History Channel's "The Bible" miniseries Scott Sassa was booted from his $6 million job by conservative heads at media giant Hearst Corporation last month after they got wind of his racy text exchange negotiating a drug-filled $1,000 sexual encounter with a teenage escort last Christmas.
Sources speaking with the Business Insider have since suggested that Sassa, 54, could also have been the victim of a "catfish" scam of Manti Te'o proportions.
While millions of Christians were busy experiencing the epic stories of "The Bible" unfold on the small screen in March when "The Bible" series was being aired, however, the New York Post was breaking the scandal on Hearst's former president of entertainment and syndication. According to the report, the 18-year-old escort was texting Sassa "sexy pictures, and he was responding using words you absolutely would not want your bosses to see."
Last Monday, the Business Insider published screenshots of the job-ending text exchange between Sassa and the escort identified only as "Kira" which can be viewed here. The texts were shared with James Asher, The Heart Corporation's chief legal and development officer and senior vice president, by a man claiming to be the escort's boyfriend.
They reveal a negotiation between Sassa and Kira on the night of Christmas 2012, for a two-hour sexual encounter for $1,000. He offers her molly, a crystal or powder form of the drug popularly known as "ecstasy" and tells her she could also bring sexual toys if she liked.
According to the e-mails, the escort's boyfriend first made contact with Hearst on March 5 and followed up with several others where he carefully avoids direct extortion language.
"The attached images are screen shots of a conversation that Scott Sassa had with my 18 year old girlfriend in December 2012. When I found the text conversation I texted scott back asking him what he thought he was doing and he replied 'O,'" wrote the boyfriend to Sassa's assistant who also said he had an appointment with gossip website TMZ.
On March 6, he forwarded the texts to Asher. He then suggested that he would keep quiet about the text if Hearst remained in contact with him. He then tried setting up a meeting with Hearst executives in New York with a claim that both TMZ and US Weekly magazine were interested in the story.
After an investigation into the allegations, Asher informed the boyfriend that the company had taken "appropriate action as a result of the information" without providing him any further details.
While a representative for Hearst told The New York Post, "we don't comment on employee matters," one source added, "Hearst prides itself on being a very ethical, clean-cut company. William Randolph Hearst must be rolling over in his grave."
In 2008, Sassa was announced as president of Hearst Entertainment & Syndication, the operating group responsible for Hearst's interests in cable television networks, including ESPN, Lifetime, A&E and History.
"The Bible" is a spellbinding 10-hour docudrama produced by Mark Burnett that brings to life stories from Genesis to Revelation "through live action and cutting-edge computer-generated imagery," according to the History channel's website. It features an international cast including Burnett's wife, Roma Downey.