'The Bible' Producers Announce Upcoming YouVersion Companion App
Hoping to encourage viewers of the upcoming television series, "The Bible," to delve into the Word of God by easily accessing scripture through the latest technology, producers Mark Burnett and his wife, Roma Downey, announced that the Bible App by YouVersion will host the official companion app for the series.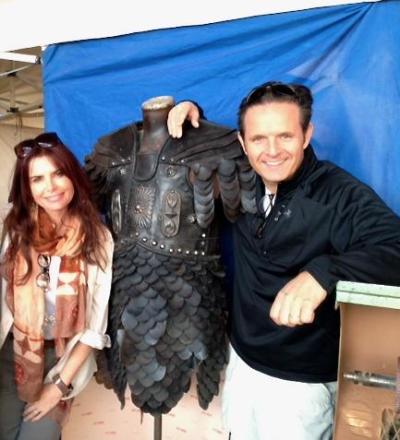 "Our prayer has always been that the dramatization of these stories will drive viewers to go to the Bible itself and drink in the actual text, because it is a book that changes lives," said Downey, who co-executive produced the series with her husband and also plays the role of Jesus' mother, Mary. "We are thrilled to provide millions of people with an easy way to do so with YouVersion."
"The Bible" series premieres on The History Channel beginning on March 3.
Burnett, who is the creator of such reality TV shows as "Celebrity Apprentice," "Shark Tank," "Survivor" and "The Voice," said that although he and his company have many series currently on TV, "The Bible" is the most important.
"Over the next decade, more people will view our Bible series than all of our other TV series combined," he said.
YouVersion creator Pastor Bobby Gruenewald of LifeChurch.tv in Edmond, Okla., said he is honored to be working with the husband-wife team in order to draw attention to "this brilliant and engaging series."
"It's the greatest visualization of the Bible we've ever seen, and I believe it will help millions of people engage with the Bible," Gruenewald said. Soon, the YouVersion community will have the opportunity to access video content from the series directly in the app, he said.
Last December, the makers of the popular Bible app YouVersion said that they had logged 72 million downloads onto smartphones and tablets. YouVersion already offers more than 400 versions of the Bible available free in more than 200 different languages, and there seems to be no end in sight. "We're literally reading the Bible like never before anytime and anywhere with millions of new people starting every month," said Gruenewald recently.
The much anticipated series is an epic 10-hour/five-part docudrama. The series promises to be a landmark television event, combining one of the greatest collections of stories ever assembled with live action and state-of-the-art CGI, said producers.
Married since 2007, Burnett and Downey thought of making the series based on Scripture about three years ago. Downey, who is most known for her 10-year role on the TV series "Touched By An Angel," explained that casting for "The Bible" would have been impossible without prayer.
"I've loved Jesus all my life," Downey told The Christian Post last December. "It's a passion project for Mark and myself."
To download the Bible App and learn more about the series, visit http://www.bibleseries.tv or www.bible.com.
THE BIBLE - Extended Look