Actor who plays villain in 'The Chosen' says series has changed his life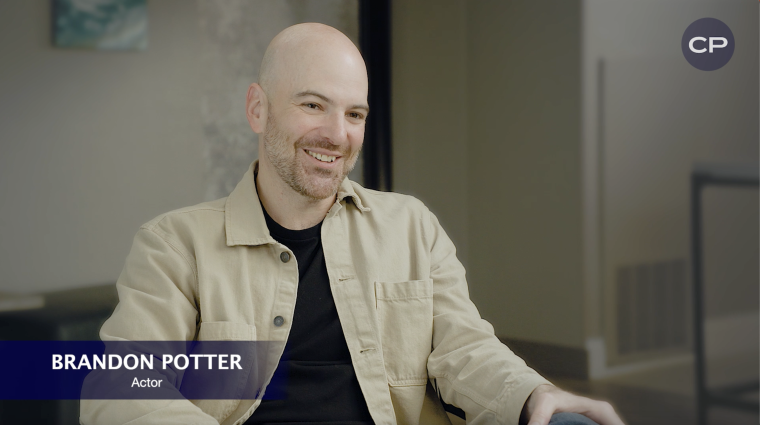 ORLANDO, Fla. — Actor Brandon Potter has been working in Hollywood for decades but says his experiences working on the hit series "The Chosen" have been transformational. 
Potter plays an antagonistic Roman guard named Quintus in "The Chosen." Now filming season four, the actor, who has been in Hollywood since the early '90s, said he's so grateful for the work environment on the set of the Angel Studios original show. 
"A show this big with this many moving parts can sometimes feel anonymous. You feel like a mercenary, just kind of a gun for hire. You show up and do your job and leave. And that's not the way that this show is," said Potter in a sit-down interview with The Christian Post at the National Religious Broadcasters convention. 
"There's like a big WhatsApp thread with all the actors and we talk and share news and we follow each other on Instagram — the cast and crew too. Everybody hangs out and knows each other."
The entertainer described his "Chosen" castmates and crew as "exactly" like a family. "Working on the show has changed my life," Potter added. 
When asked to describe his all-time favorite scene, the Texas native pointed to a scene he shot in season two with castmate Jonathan Roumie.
"In terms of favorite scenes, I always go back to the scene that I got to do with Jonathan Roumie, the man who plays Jesus. It's just the two of us sitting and talking," Potter recalled. "The reason why I love that scene is, first of all, because of the writing. You never get a scene in television where it's just two people talking for something like six or seven minutes. That never happens. There's no dialogue that long in any kind of show. Usually, it cuts away, or there's an action sequence or cut to a commercial. So I was excited to do this scene just for that because it felt sort of like a play.
"Getting to finally share a scene with him was wonderful. Just because he's an incredible scene partner. It's nice to feel like I'm present in the moment with another artist."
The scene also marked a high moment in Potter's career to see the level of support he was receiving from those behind the scenes who were championing his work on the series.
"Feeling the support of the entire cast and crew and also sitting across the table from such a lovely actor was a day in my career that I'll always remember." 
As for season four, Potter adds, "A lot happens in season four. It comes to you hard and fast. Buckle up, get ready because stuff goes down," he revealed. "So far in the show, Quintus has operated sort of unimpeded, he's able to call the shots and do what he wants to do, and there's not really any consequences. And in this season, there are consequences for his actions." 
"There are real consequences to his actions," Potter reiterated. "And I think that will force a change in him. I don't know what kind, I don't know if that's for good or worse. I can't speak to that. I don't even know. But something will have to give."
Potter has played Quintus since season one of the series and said sticking with a character for this long has been "One of the great joys of my life." He enjoys getting to really "Go deep. You don't get the chance to do that very often."
Season four of the series will be out in January 2024. Potter said the release will include various streaming services, TV, and theatrical events as well.
Brad Pelo, president and executive producer of "The Chosen," told CP in a recent interview that the multi-season series about Jesus and His followers aims to reach 1 billion people through its new distribution partnership with Lionsgate.
Lionsgate, the studio behind "Jesus Revolution," acquired sub-licensing distribution rights worldwide for the history-making series Angel Studios' original series.
"The Chosen," from creator Dallas Jenkins, has grown into a global phenomenon being streamed by over 500 million people worldwide.