The Christian Post's top 10 news stories of 2022 (part 1)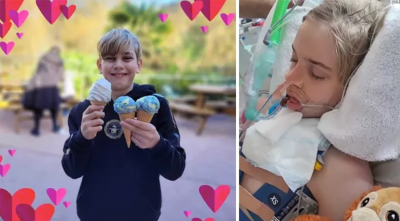 9. Archie Battersbee; assisted suicide
End-of-life issues proved to be a relevant matter this year as parents in England battled to keep their son on life support. The hospital and courts later decided to remove life support from the child. 
As reported by CP in August, 12-year-old Archie Battersbee's mother, Hollie Dance, announced that her son died after the Royal London Hospital withdrew his life support. The mother said her son "fought right until the very end." 
Archie was hospitalized and put on life support after his mother found him unconscious with a ligature around his neck at her home in Essex in April. He suffered a "catastrophic hypoxic-ischaemic brain injury" and did not regain consciousness following the injury. Doctors ruled him brain dead.
In June, a Family Division Court judge granted the Royal London Hospital permission to remove the boy's life support. In her decision, Justice Emma Arbuthnot ruled that the child was likely dead "on the balance of probabilities." 
Arbuthnot granted the parents permission to appeal, however. The following month, in a judgment handed down in the High Court of Justice Family Division, Justice Anthony Hayden ruled that it is in the child's "best interests" for the life support to be removed.
The parents, who were involved in a lengthy legal battle to prevent the removal of their son's life support or move him to hospice, exhausted all options. The Christian Legal Centre represented them throughout their ongoing legal battle. 
After the High Court ruled that the parents could not move Archie from the hospital to the hospice center, the boy died at 12:15 p.m. local time on Aug. 12.
Earlier that month, Archie's parents had filed an urgent legal application with the European Court of Human Rights after they were denied permission to appeal the High Court's decision to allow the removal of life support. 
However, the ECHR rejected the application, stating that it would not interfere with the decision of previous judges who agreed with the hospital's assessment that removal of care was in the child's "best interests." 
Assisted suicide 
The Churchill Park United Church of Winnipeg drew headlines in the spring for hosting an assisted suicide ceremony for one of its members diagnosed with ALS, otherwise known as Lou Gehrig's disease.
The church became the first in Manitoba to host the controversial practice, describing it as a "Crossing Over Ceremony" for 86-year-old Betty Sanguin.
During the ceremony, people bid farewell to Sanguin before the chemical injection began at 1 p.m., with the elderly woman passing away an hour later.
The Rev. Dawn Rolke told CP that the ceremony "seemed appropriate." She said that churches are often "host and home to all the raggedness of our lives and to some of our significant life rituals: baptism, marriage, ordination, funeral or memorial services." 
Canada offers assisted suicide through what is known as MAiD, "medical aid in dying." The process involves a physician or nurse practitioner ending a patient's life via lethal injection.
In 2016, Canada passed a law legalizing physician-assisted suicide, limiting access to citizens or residents 18 years old or older with "a serious and incurable disease, illness or disability" that included "enduring and intolerable suffering."
Last month, the La Maison Simons fashion brand attracted controversy for an advertisement that showed a terminally ill woman ending her life. The three-minute "All is Beauty" video depicts the story of 37-year-old Jennyfer Hatch, who ended her life via assisted suicide under Canada's MAiD law on Oct. 23. 
Hatch suffered from chronic pain due to Ehlers-Danlos syndrome and opted to medically terminate her life.   
In a separate video on the Simons website, Peter Simons, the chain's president and chief merchant, said that telling Hatch's story was intended to be an "inspiration" and "not a commercial campaign." 
"We wanted to do something that really underlined human connection, and perhaps would help people reconnect to each other, and to this hope and optimism that is going to be needed if we're going to build the sort of communities and spaces that we want to live in and that are enjoyable to live in," Simons said.
Since the passage of the MAiD law in 2016, deaths in Canada have jumped significantly from just over 1,000 assisted suicide deaths in 2016 to more than 10,000 as of 2021. According to CBC, MAiD deaths account for more than 3% of all Canadian deaths. 
In the United Kingdom, the Church of England passed a motion reaffirming its opposition to a proposal to legalize assisted suicide. The motion passed with 289 in favor and 25 opposed, calling on the government to provide adequate funding for palliative care services. 
Samantha Kamman contributed to this report