The Christian Post's top 10 news stories of 2022 (part 2)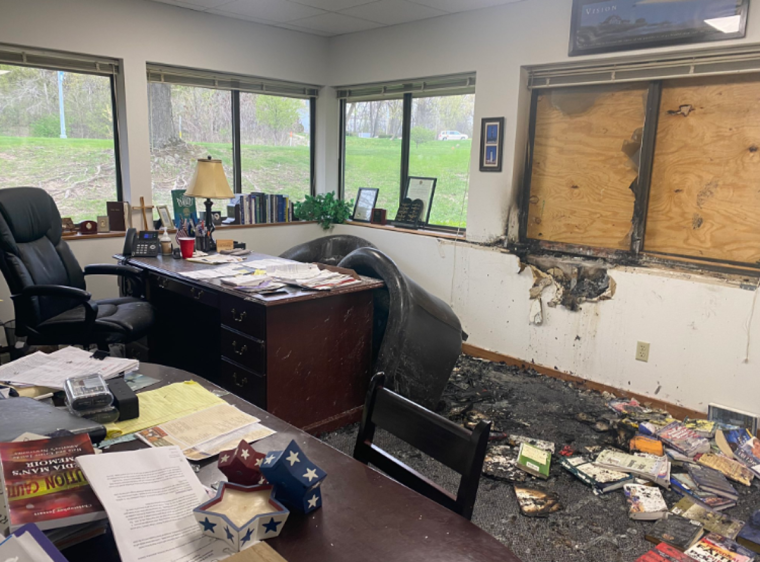 2. Attacks against churches, pro-life groups
After Politico published a leaked draft decision in the U.S. Supreme Court case of Dobbs v. Jackson Women's Health Organization indicating that a majority of justices were poised to overturn the Roe v. Wade decision that legalized abortion nationwide, pro-life organizations, pregnancy centers and churches nationwide were targeted by a wave of vandalism and arson.
Politico published the leaked draft of the Dobbs decision on May 2 and the first instance of vandalism recorded by The Christian Post took place on May 3 at Sacred Heart Church in Boulder, Colorado. The Roman Catholic Church was defaced with graffiti displaying pro-abortion slogans.
In some cases, the damage inflicted on churches and pro-life pregnancy centers extended far beyond spray paint. 
About a week after Politico published the leaked Dobbs decision, a group of pro-abortion activists identifying themselves as "Jane's Revenge" took credit for the firebombing of Wisconsin Family Action, a pro-life activist organization based in Madison. The group issued a communique demanding the "disbanding of all anti-choice establishments, fake clinics, and violent anti-choice groups within the next thirty days."
When pro-life organizations failed to disband within 30 days, "Jane's Revenge" responded by declaring "open season" on such groups in a subsequent communique. The activist collective also used its second communique to take credit for the vandalism of pro-life pregnancy centers and churches in Colorado, Maryland, Washington, Oregon, Iowa, North Carolina, New York, Florida, Texas and Oregon.
CompassCare, a pro-life pregnancy center in Amherst, New York, was firebombed in June and had its windows broken. Within two months, the business completely renovated its fire-damaged facility and announced expansion plans. More than six months after the attack, the perpetrators remain at large. 
The FBI offered a $25,000 reward for information leading to the arrest of those responsible for the attack on CompassCare and released surveillance video footage from the incident. CompassCare CEO, the Rev. Jim Harden, contends that the FBI's latest efforts constitute an attempt to get ahead of a potential investigation by Republicans in the U.S. House of Representatives into what pro-life activists have characterized as a lackluster response by the federal government to pro-abortion vandalism.
From May through late June, more than two dozen pro-life pregnancy centers and churches were targeted by pro-abortion extremists outraged by the Dobbs draft. Vandalism of churches and pro-life pregnancy centers continued after the Supreme Court released the final Dobbsdecision on June 24.
Blue Ridge Pregnancy Center in Lynchburg, Virginia, became the first pro-life organization subject to vandalism following the release of the Dobbs decision. 
"Jane's Revenge" took credit for the vandalism of the facility and the damage to additional property in Colorado, Michigan and Massachusetts. Over the summer, which pro-abortion activists dubbed the "summer of rage," more than a dozen pro-life pregnancy centers and churches incurred damage. 
While the FBI opened an investigation into the attacks on pro-life pregnancy centers as potential acts of domestic extremism, pro-life activists have repeatedly urged the federal government to take more decisive action.
Concerns with the federal government's reaction to the pro-abortion vandalism grew after armed federal agents arrested pro-life advocate Mark Houck at his home, maintaining that he "forcefully shoved" a clinic escort at a Philadelphia Planned Parenthood in violation of federal law. However, Houck says he was defending his 12-year-old son from the clinic escort's harassment. 
Bill Donohue of The Catholic League for Religious and Civil Rights wrote a letter to Sen. Chuck Grassley, R-Iowa, the top Republican on the Senate Judiciary Committee, suggesting that Houck's arrest shows the Biden administration seems to have "much interest in pursuing alleged wrongdoing by pro-life activists, yet little interest in pursuing alleged wrongdoing by abortion-rights activists."
Ryan Foley contributed to this report