'The Father' movie review: Anthony Hopkins, Olivia Colman portray harsh reality of dementia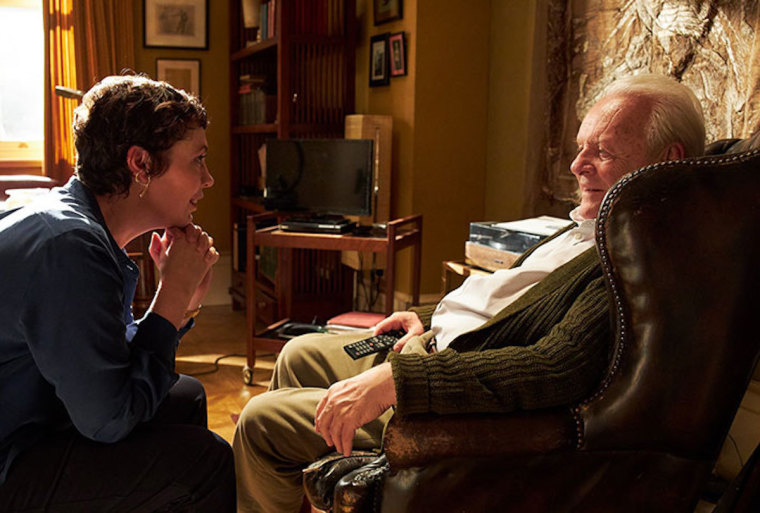 Oscar-winning actor Anthony Hopkins' performance in "The Father" gives viewers a heartbreaking peek into the struggles faced by those living with dementia and their families.
The emotional film takes viewers along one man's journey as he progresses deeper into confusion and rage as each stage of the disease worsens, and he struggles to make sense of the world around him. 
Based on the play "The Father" by Florian Zeller, the film written by Zeller and Christopher Hampton opens nationwide on March 12 and will be available for PVOD on March 26.
Starring Hopkins, Olivia Colman, Mark Gatiss, Rufus Sewell, Imogen Poots and Olivia Williams, the plot follows an 80-year-old "mischievous" man who's "living defiantly alone and rejecting the carers that his daughter, Anne, encouragingly introduces" to him, the synopsis reads, in part.
"Help is also becoming a necessity for Anne; she can't make daily visits anymore and Anthony's grip on reality is unraveling. As we experience the ebb and flow of his memory, how much of his own identity and past can Anthony cling to? How does Anne cope as she grieves the loss of her father, while he still lives and breathes before her? 'The Father' warmly embraces real life, through loving reflection upon the vibrant human condition; heart-breaking and uncompromisingly poignant — a movie that nestles in the truth of our own lives."
The impact dementia has on loved ones can be overwhelming, and Anne is portrayed as the hero of the story as she selflessly gives up her life to care for her father. While the film does not feature spiritual content and is laced with vulgar language as Hopkins' character often has suspicions about his current state of life, it shows the realities faced by all who are impacted by this disease. 
Hopkins' character, also named Anthony, is seen publicly shaming and criticizing Anne for being what he describes as "dull and tedious." While she's often the target of his outrage spurred by his confusion, she remains by her father's side through it all. Her character is sympathetic, understanding that his frightful outbursts are not his fault. The film does a phenomenal job of portraying the frustrations faced by those who are overcome by fear and frustration as they're unable to recall recent life events or even know where they are at any given time. 
There are moments, however, of comprehension and clarity. In one such moment, Anthony "thanks" Anne "for everything." 
Scenes in the film transition between reality and false memories in such a way that viewers get a real sense of what Anthony is grappling with as they, too, cannot distinguish between the illusions they're seeing and their present circumstances.