The Gettys Sing Modern Hymns, Traditional Christmas Carols With Mike and Karen Pence
The Gettys Sing Modern Hymns, Traditional Christmas Carols With Mike and Karen Pence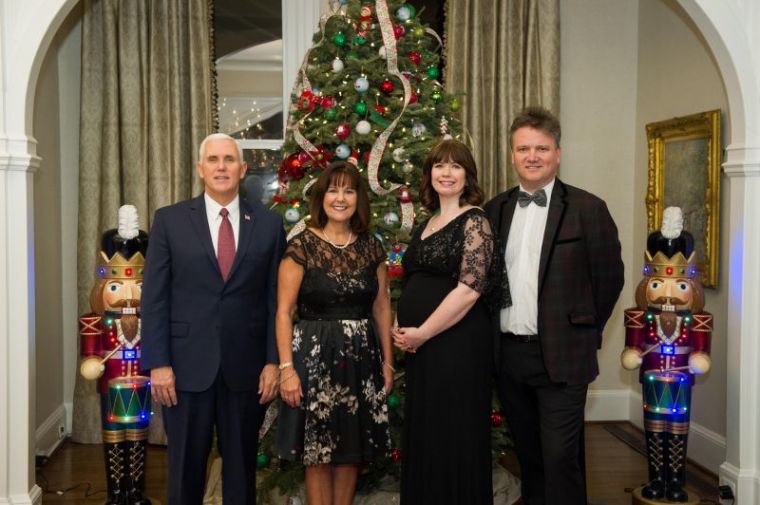 Singers Keith and Kristyn Getty, who pioneered "modern hymns" and whose worship music is popular in evangelical circles, performed this week for Vice President Mike Pence and his wife, Karen, at a holiday reception at their residence.
Pence and his wife had the Gettys and their touring band perform their modern hymns and lead their guests in traditional carol singing on Tuesday. And on Wednesday night, the second couple were part of the audience when Keith and Kristyn brought their annual Christmas tour to The John F. Kennedy Center for the Performing Arts Opera House for a performance of "Sing! An Irish Christmas."
The duo launched a global initiative named Sing! earlier this year to revive congregational singing, which coincided with the 500th anniversary year of the Reformation, in which Martin Luther placed a strong emphasis on singing hymns together.
Sing! An Irish Christmas is currently touring 15 cities across the country, including in Washington D.C., New York City, Atlanta, Cleveland, and Colorado Springs.
Readings from the New Testament will be part of this year's concert program of the Gettys.
In 2016, the Gettys performed at a worship service and prayer meeting before Pence's swearing-in as Indiana's governor.
Keith and his wife live between Portstewart, Northern Ireland, and Nashville.
In June, Keith Getty was honored as an "Officer of the Order of the British Empire" by Britain's Queen Elizabeth II for his contribution in music and modern hymn writing.
Keith, who is behind the popular hymn "In Christ Alone," is the first-ever individual in the world of contemporary church music to receive the award, a British order of chivalry to reward contributions to the arts and sciences, work with charitable and welfare organizations, and public service outside the Civil Service.
Christian Copyright Licensing International says that Keith, along with Kristyn and Christian worship leader and writer of hymns Stuart Townend, has written more than 60 of the most popular 2,000 hymns sung in the U.S. and the United Kingdom.
Speaking to The Christian Post last December, Keith said that while their music keeps changing, he and his family stay focus and steadfast on what they were called to do and are not moved by what's happening in culture.
"I don't really care where the tide is turning. I don't really listen to Christian music or Christian worship music. I think it's important to observe the world around us but I don't think Christian trends is necessarily the most helpful place," he advised.
He went on to say, "If you look at the world around us, we see more people becoming Christians in the last hundred years than any point in history. Christianity is growing in 4.5 continents in the world. The Bible is in more languages, potentially every known language. The growth of Christianity in the last century and the cost in terms of martyrdom is greater than anybody could ever have imagined. The average Christian around the world is either first or second generation Christian in four-and-a-half continents."