'The Handmaid's Tale,' Show About Totalitarian Christians Oppressing Women, Wins Top Emmy Prize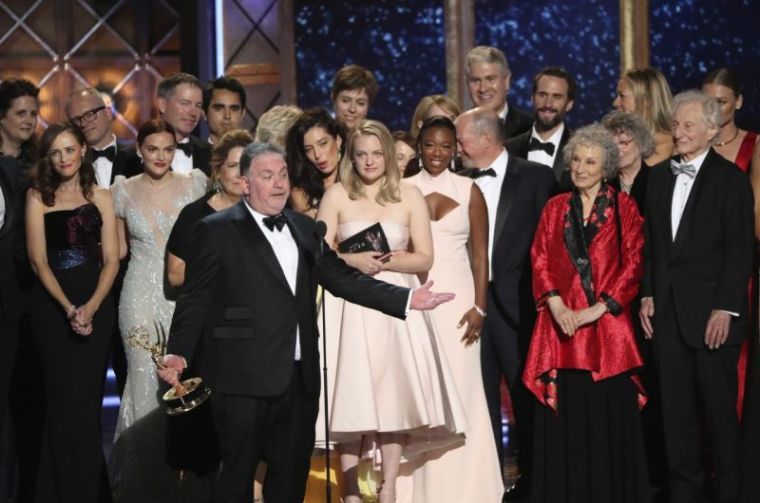 Hulu's "The Handmaid's Tale," a show depicting a dystopian future in which a Christian totalitarian government controls society and oppresses women, won the best drama series prize at the Emmy Awards on Sunday night in Los Angeles.
Variety reported that the show's first season also led to an Emmy win in the outstanding lead drama actress category for Elizabeth Moss, the show's lead, while Ann Dowd won the award for outstanding drama supporting actress.
The show, based on the adaption of Margaret Atwood's novel of the same name, picked up eight statues at the 69th Primetime Emmy Awards, out of its 13 nominations.
"The Handmaid's Tale," which portrays a society in which Christianity is forced upon people and where women are stripped of their rights and forced to bear children, has stirred a wide-range of responses from Christian circles.
Some, such as Claire Chretien of LifeSiteNews, warned that the show has "inspired advocacy against the pro-life movement," because it suggests that people opposed to abortion might be yearning for a dystopian reality.
"I've grown close to both Catholics and Protestants doing pro-life advocacy. Nothing shown in 'The Handmaid's Tale' is remotely like what pro-life Christians believe, fight for, or want to enshrine in law. In fact, it's so different from Christianity that it's unrecognizable," Chretien wrote in June.
She further pointed out that on the show, handmaids are constantly reminded of their past sins and told how lucky they are to be given a second chance.
"People who think Christianity is like this should spend a day at the March for Life or with leaders of the pro-life movement. The pro-life movement is full of post-abortive people who now speak out about the horrors of abortion. They're welcomed and loved," she added.
Astrologer, counselor and writer Matthew Currie wrote in May on his "It's Your Future" website that many people online are adopting the perception that the show is "inherently anti-Christian."
"I'll admit that the program doesn't show the Christian faith in the best possible light, but claiming it's 'anti-Christian' is completely missing the point," Currie wrote, however.
"The Handmaid's Tale is no more 'anti-Christian' than the Terminator films are 'anti-technology.' In the case of The Handmaid's Tale, it's to be expected that a totalitarian regime arising in the United States might well be Christian in nature," he stated.
Atwood, who is a humanist and was given the Humanist of the Year Award in 1987, meanwhile, told Sojourners in an interview in May that her book was not meant to criticize genuine Christians.
"I don't consider these people to be Christians because they do not have at the core of their behavior and ideologies what I, in my feeble Canadian way, would consider to be the core of Christianity," she said, referring to the fictional totalitarian regime.
" ... and that would be not only love your neighbors but love your enemies. That would also be 'I was sick and you visited me not' and such and such ... But they don't do that either. Neither do a lot of the people who fly under the Christian flag today," she continued.
"And that would include also concern for the environment, because you can't love your neighbor or even your enemy, unless you love your neighbor's oxygen, food, and water. You can't love your neighbor or your enemy if you're presuming policies that are going to cause those people to die."