'The Identical' Star Blake Rayne Sees Himself in Rock Star Impersonating Lead Character; 'Similarities Are Outstanding'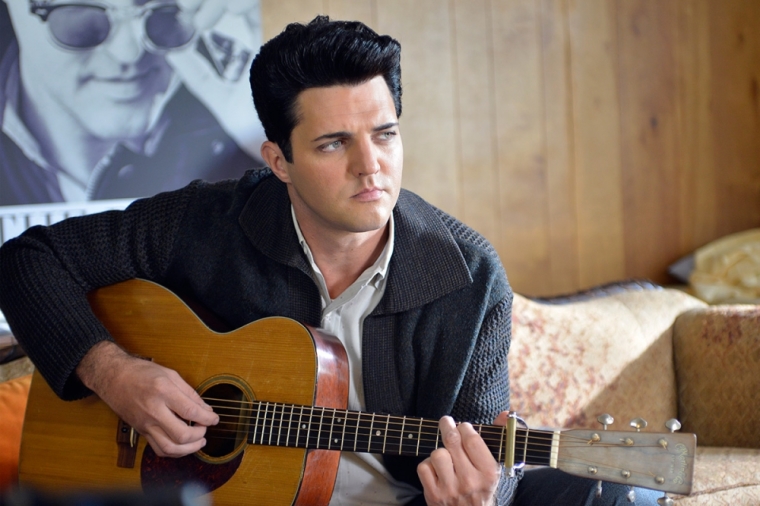 Blake Rayne, star of the new musical drama "The Identical," recently opened up about the distinct similarities between himself and one of the characters he plays in the film.
The former Elvis Presley impersonator, 41, makes his acting debut in a dual role alongside "Goodfellas" star Ray Liotta (fiery pastor Reece Wade) and acclaimed actress Ashley Judd (Pastor Wade's wife). One of the characters he plays, Ryan Wade, is a pastor's son from Nashville, Tennessee who is in search of his identity and life purpose and in real life, Rayne can definitely relate.
"The similarities between myself and the Ryan Wade character [are] really outstanding," he told The Christian Post exclusively. "I was certainly able to draw a lot of information from my own life to play Ryan Wade on the screen."
Rayne, who won an Elvis impersonator contest in 1998, once made a living impersonating Presley at casinos and state fairs. In the film that hits theaters Friday, Ryan launches a career impersonating famed rock musician Drexel Hemsley (Rayne's other character), who unbeknownst to him is actually his ill-fated twin brother.
"You know, I've always loved music and movies growing up … I got involved with music later on a dare," he said referring to the Elvis contest. "That just opened up the doors for me to pursue my own music."
Despite his success as an Elvis impersonator, Rayne, real name Ryan Pelton (the Batman fan crafted the stage name in honor of Bruce Wayne), was eager to establish himself as an artist. Like Ryan, his initial attempts to make his mark in the music industry fell flat and he was met with resistance.
"I think that [with] every artist, musically or otherwise, there are moments where certain things influence their life that maybe don't influence them anymore and you want to be able to break out and see this trial by fire...see how you measure up as yourself," he explained.
"So I definitely understand [Ryan's] frustration," he continued. "The world we live in today is a very crazy, judgmental world, especially in the music business … so you have to find a way to overcome that obviously in life just as Ryan Wade had to in the movie, and at the end of the day you stay true to what you believe in your heart and good things will come about."
After a chance encounter with a movie producer in Nashville, Rayne landed the dual role playing identical twins Ryan and Drexel - who are separated at birth.
"Initially, I didn't really know what to think of it. I didn't know what [dual role] meant or how to go about that. I set out to really research … that was very eye-opening," he said. "I also went to work with my acting coach in L.A."
The film, produced by City of Peace Films and directed by Dustin Marcellino, is a Christian-themed, rock-n-roll tale about fate and destiny. Rayne hopes viewers will take away something positive and apply it to their own lives.
"I have a son and he's at that age where he's trying to find his own path in life. We've all gone through this – it's not unusual in today's world to go through this many times … And the one thing that I feel that this movie really hits on [is] if you're in the right place and you're doing the right thing ... follow that instinct that you have inside of you [and] good things will come of that," he said, adding that if your "heart, mind, body and spirit" are in the right place, you will succeed.
"The Identical" spans from the 1930s through to the 1970s and features 20 original songs written by Jerry Marcellino and Yochanan Marcellino.
"I'm a music history fan - period. So there was a lot of intrigue and interest," said Rayne. "I think that music as a whole has been cyclical over the years and what you're listening to today is really just a version of music you've heard in the past so I really enjoyed [playing] Drexel Hemsley."
"How it was created was basically taking a look at every major rock star in the 1950s, 1960s and 1970s and trying to find a way to bring them all together … Drexel Hemsley is a combination of every rock star that's ever been out there."