The Legend of Zelda Wii U Spin-Off, Hyrule Warriors, Pits Link Against Hordes of Enemies in Action Fighter (TRAILER)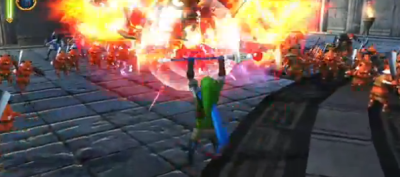 During today's Nintendo Direct, a new Legend of Zelda game was announced by Satoru Iwata, tentatively called, Hyrule Warriors.
Hyrule Warriors will play a lot like Dynasty Warriors and be sort of an open world mass fighting game with non-stop action. Main character Link will take on hordes of enemies instead of his usual puzzle, strategy, and then fight type games.
The game is slated for release in 2014 for the Wii U, and will be a spin-off for the series that will not follow any part of the current story-line.
View the trailer below:
Recently, the 1992 SNES classic, The Legend of Zelda: A Link to the Past became available in the Nintendo eShop for the Wii U on Dec. 12 in Europe.
There has not been any word on an official release for the North American version, but it is anticipated that it will be arriving soon, according to IGN.
The game goes for $7.99, but if previously purchased for the Wii console, an upgrade will only cost $1.50.
The Legend of Zelda: A Link Between Worlds, which was recently released for the 3DS, is the more than 20-year sequel to A Link to the Past, and has a lot similarities between the two.
A Link Between Worlds was released on Nov. 22 for the Nintendo 3DS and 2DS and featured many new gameplay modes within the game that will make this entry into the series' standout. The game is available for $39.99.