'The Surrogate' Spotlights Sex Partner Therapy, Battling Sexual Trauma
Fox Searchlight Pictures' "The Surrogate," about a polio-stricken poet – in an iron lung – who at the age of 38 is determined to lose his virginity, enlists the help of a surrogate partner therapist. Inspired by true events, the film has shed light on a profession that many know little of – sex surrogacy.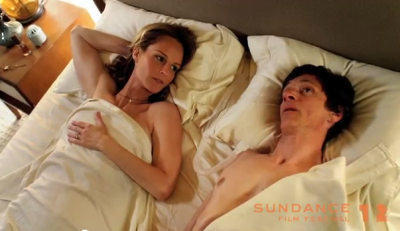 Masters and Johnson, the first leaders of modern sex therapy, introduced the concept of surrogate partners more than 50 years ago. This type of "healing" requires a licensed surrogate partner to work in conjunction with a therapist.
Shai Rotem, certified at the International Professional Surrogates Association (IPSA), revealed that a client would see both the counselor and sex surrogate once a week. Together the two would create a therapeutic plan, sharing input from their respective sessions.
Rotem stated that there is constant communication between himself and the therapist.
"The first session is just about creating [a sense of] trust between me and the client," he said. "We sit and talk about the history of the client. Some like to process the trauma."
According to the Los Angeles resident, most of his patients are women who have been raped or sexually abused and have lost their trust in people or men as a result.
Rotem also told The Christian Post that many of his clients are late virgins – women in their early 40s or mid-40s who have never been in a relationship and now feel stuck – carrying that "trauma of waiting for so many years."
"They need to go through a healing trauma process in order to gain [back] that trust and confidence in people."
Rotem pointed out that no two therapeutic plans are identical and that the recovery process is slow. "The client is in control," he stated. "First we introduce our hands and if she is okay with exploring the hand [and] feels comfortable we will explore to the elbow, etc. By doing this she gains back the trust in me and other people."
Not just women, but many people have been violated – whether it is a violation of their privacy, boundaries, or sexuality, Rotem said.
"There are so many people out there that are carrying the trauma. They're wounded and they're not sharing it with anyone – until they get to a point where they go through major depression and turn to therapy."
Certified in 1997, Rotem told CP that he only works with single clients that do not have a partner to work through their constraints. Also an IPSA trainer, the 42-year-old teaches his students to ask and make sure a perspective client does not have a significant other.
"I tell them, '[because] you have a partner you don't need the help of a surrogate therapist, you should go to couple's therapy with your partner. You don't need me,'" he added. "And I don't think anyone would pay the extra amount if they have a partner they can include in the therapy."
The Israeli native shared that there is a certain stigma surrounding surrogate partner therapy. This is a result of a lack of information, which is why it is easy to say this work is prostitution, he said.
According to Rotem, it's about education and learning. He told the story of one client, who when it came to the "genitals education" portion of the therapy, said, "This is disgusting. I hate my vagina. It's dirty and I hate it." This aversion was directly correlated to words her mother told her when she was 3-years-old.
"That was enough to burn it in her mind for the rest of her life," said Rotem. "And this is part of her body. How can anyone think that part of their body is disgusting or gross?"
He added, "This is the problem in our society. There's not enough education. There are too many communities where they just ignore the work out of ignorance and they don't know any other way. Sex therapy is the place where we educate people about their sexuality."
The years 1995 through 1997 were an interesting time for the California resident. Rotem said that he dated six girls in that 2-year period, and eventually each revealed that she was a victim of sexual abuse.
He told CP, "I thought to myself, 'Why me? From all the guys in the world, why me? [Why] am I attracting these types of women?'"
He shared that he was called to this type of healing. Rotem became a certified sex surrogate at 28-years-old. However, he says that he was performing this therapy as a young child – long before fully grasping what it was. After 9 years of practicing in Israel, Rotem moved to LA in 2006.
According to the 1978 research of the American Association of Sex Educators, Counselors, and Therapists, professional surrogacy is ethically acceptable as part of a sex therapist's methods of healing. However, there has not been adequate research to determine whether it is effective. This study was citied in Raymond Noonan's master's thesis in 1984.
Meanwhile, The Journal of Sexual Medicine studied 16 patients, suffering from vaginismus, who were treated by a male surrogate partner, in comparison to another group who was treated by their own partners. The 2007 research found that treating vaginismus with the help of a surrogate partner was as effective as couple therapy. And that surrogate therapy could be helpful for vaginismus patients who have no cooperative partner.
Regardless, Rotem told CP that he has seen great success.
"These women – many of my clients – are now married and have kids, where they couldn't even sit for lunch with men before the therapy."
"Most people think that a surrogate partner just does sexual work or has sexual encounters with the client but that's so not true," Rotem stated. "The work is about healing. It's about healing traumas and it's about creating a relationship with the partner – this relationship is going to heal the client, heal their trauma and can be a model for future relationships."
Noonan found that about 13 percent of a surrogate's session was spent engaging in sexual activity. Meanwhile, around 49 percent of the time was spent touching and other non-sexual bodywork.
According to Rotem, "The Surrogate" is indicative of a large percentage of the population. Many clients have physical disabilities and no one wants to get closer to them, he said.
"One of the major problems of people with disabilities is that their family, friends and the people around them can't see their sexuality. They think that if this person is disabled then they don't have sexuality. And they're suffering. They have sexuality, and it's wounded. They need somebody to get them through the process. "
Rotem, who is currently in a relationship, said he sees about five clients a year. However, it was not easy at first for his girlfriend to know that he "gave himself" to other women. "But at the same time, she says, 'you're a hero. You're saving souls and you've been doing it [for many years] without knowing it.'"
Directed and written by Australian native Ben Lewin, "The Surrogate" made its Sundance debut, winning a jury prize for its ensemble cast. The film stars Helen Hunt and John Hawkes and is slated to hit theaters this year.
See Ben Lewin discuss the film below.