'The Voice' Winner Chris Blue Tops Billboard Chart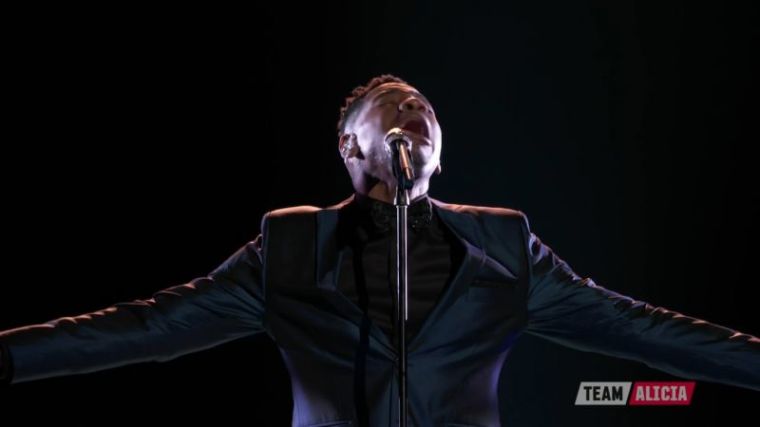 Less than one week after winning season 12 of NBC's "The Voice," worship leader Chris Blue is topping Billboard's Gospel chart this week.
The 26-year-old's rendition of gospel singer Tamela Mann's song "Take Me to the King" didn't only win over audiences on the show, but listeners helped the song rise to the top of Billboard's  Hot Gospel Songs chart. What makes the feat even more interesting is the fact that Mann's original version of the Kirk Franklin penned track spent 25 weeks at No.1 in 2012 and 2013.
Blue performed the song on "The Voice" May 15, which helped him advance to the semi-finals round of the singing competition. When Mann heard the Knoxville, Tennessee-based Cokesbury United Methodist Church worship leader's performance, she was impressed.
"He made it his own and I loved it," Mann previously told First Coast News.
In a Reddit AMA question and answer session, Blue revealed that Mann's song was actually one of his favorite to perform.
"Chris, been following you since your blind audition and your performances are lit. Which of them all is your favorite," one person asked.
Blue responded by saying, "Favorite song was Take Me to The King or Money on You!!"
Weeks after his popular performance of the song, "Take Me to the King" writer and composer Kirk Franklin also showed support for Blue by asking his followers to help the singer win the nationally televised music competition.
"Family show some love for my sis @aliciakeys @chrisblive is dopeness! He's in the #VoiceFinale let's take #TeamAlicia all the way," Franklin wrote on Instagram earlier this week. "Vote now at NBC.Com/VoiceVote and you can purchase him singing TAKE ME TO THE KING on iTunes!"
Blue told Entertainment Weekly that he's still surprised with his success on "The Voice" since the singer never thought he was good enough to do well on it.
"To be honest with you, I never thought I would be on 'The Voice.' I always said to myself, 'You're not good enough for this show, don't try out, you're not gonna make it, no one would ever turn a chair for you,'" Blue recalled. "So I would say the most surprising thing about this show was the fact that I was on it to begin with. I used to be at home, and I'd watch the show, and I'd just be in jaw-dropped awe at the amazing talent that would grace that stage."