5 Things to Know About Clinton's VP Pick Tim Kaine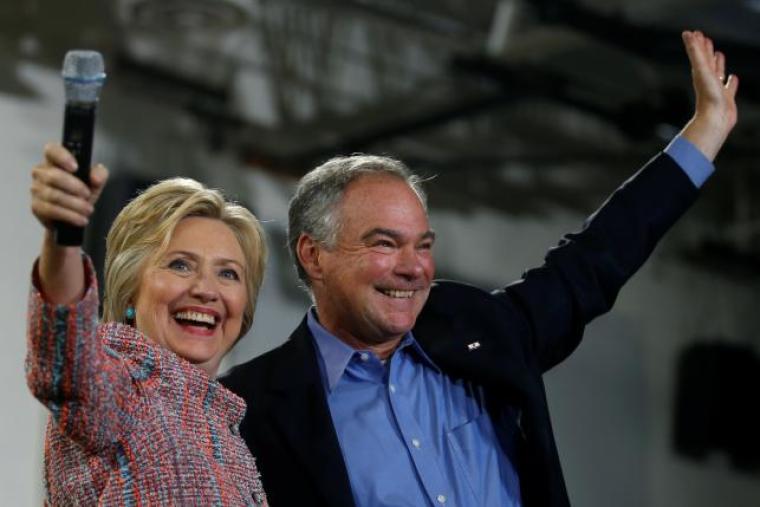 Presumptive Democratic presidential nominee Hillary Clinton announced her vice-presidential pick as Sen. Tim Kaine of Virginia on Friday. Here are five things you should know about him.
Several media reports including The New York Times, said while Clinton had not made a final decision, Democrats close to her presidential campaign signaled strongly Thursday that the 58-year-old Kaine is likely to be announced as her running mate, in an email to supporters while she is on a campaign move in Florida on Friday afternoon.
"One of the main reasons that I'm being considered is because of Virginia," Kaine said. "It's not necessarily just because of me. It's because Virginia is really important."
Perhaps gearing up for a fight with his Republican rivals, in a single tweet reacting to Republican presidential nominee Donald Trump's nomination acceptance speech on Thursday night, Kaine noted: "Trump chose to fill #RNCinCLE with rhetoric that tears us apart, instead of plans that would bring us together #BetterThanThis."
Here are five things to know about him.
1. He is a devout Roman Catholic and former missionary who graduated from Harvard Law
Tim Kaine is a devout Roman Catholic who served as a former missionary. He talks frequently of how his faith informs his views on race and poverty and his deep embrace of cultural diversity."
His was educated at the University of Missouri and Harvard Law School and started his public service career by taking a year off from Harvard to run a technical school founded by Jesuit missionaries in Honduras according to his website.
His Catholic parents were so devout, Kaine once joked that, "if we got back from a vacation on a Sunday night at 7:30 p.m., they would know the one church in Kansas City that had an 8 p.m. Mass that we can make."
Kaine also practiced law in Richmond for 17 years where he specialized in representing people who had been denied housing due to their race or disability. He and his wife, Anne Holton, are longtime members of Richmond's St. Elizabeth Catholic Church, a predominantly black congregation in a poor part of town.
2. He was Virginia's 70th Governor
Kaine served as Governor of Virginia from 2006 to 2010. He was responsible for moving the state's focus from education competence to excellence, according to a bio. He worked to reform the financing and accountability of Virginia's transportation infrastructure. He also issued Virginia's first comprehensive energy plan. He is currently active in the Senate on foreign relations and military affairs and has built a reputation for working across the aisle as Virginia's governor and mayor of Richmond.
3. He is married with 3 children
Kaine is married to Anne Holton, who currently serves as Virginia's Secretary of Education. A former legal aid lawyer and juvenile court judge, Anne previously ran Great Expectations, a program for more than 500 foster children attending Virginia community colleges. Kaine and his wife both revel in the adventures of their three grown children and still live in the same Northside Richmond neighborhood where they moved as newlyweds more than 30 years ago. Their eldest son, Nat, is serving as a Marine.
4. Kaine's father-in-law was the first Republican governor of Virginia since Reconstruction
Kaine's father-in-law is A. Linwood Holton, Virginia's 61st Governor. Holton, who served from 1970-1974 was the first Republican governor elected in Virginia since Reconstruction. He became a model for those who governed from the middle, as he rejected the extreme wings of both parties, and championed causes such as civil rights and equal opportunity across the Commonwealth.
5. He started out as a journalism major in college
While at the University of Missouri, Kaine majored in journalism until he decided budding reporters were "too cynical" and switched to economics.