Thousands #FloodWallStreet Demanding Action to 'Stop Capitalism' and 'End Climate Crisis' in Massive NYC Protest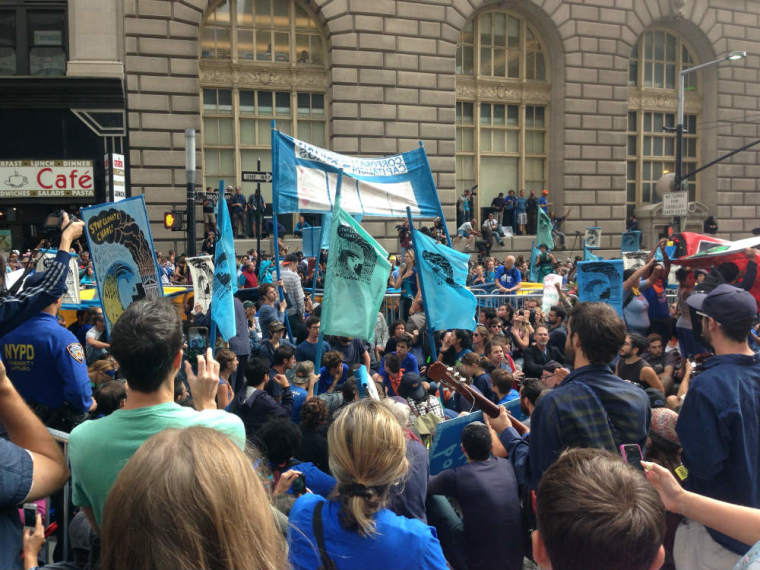 NEW YORK — The #FloodWallStreet campaign converged in lower Manhattan on Monday, bringing Wall Street to a screeching halt as thousands of protesters sought to bring attention to "the climate crisis" and made calls for the end of capitalism.
"Join the flood on September 22 starting at 9 am," reads the pledge for potential protesters on floodwallstreet.net. "The economy of the 1 percent is destroying the planet, flooding our homes, and wrecking our communities. After the People's Climate March, wearing blue, we will bring the crisis to its cause with a mass sit-in at the heart of capital."
One of the calls to action in the pledge was for interested participants to "join the sea of bodies disrupting business as usual (and risk arrest)," which essentially describes what happened today, with the iconic Charging Bull statue serving as ground zero for the protest.
According to numerous photos posted to Twitter, however, the Charging Bull was just fine — fenced off Sunday night and well guarded on Monday by dozens of New York City police officers.
The #FloodWallStreet protest came just a day after an estimated 400,000 people gathered on Sunday to draw attention to global warming, in the People's Climate March. Yesterday and today's events were meant to coincide with the United Nations convening for its 2014 Climate Summit.
The Guardian reported on a 2013 survey that highlighted evangelical Christian views on climate change, finding that many such U.S. Chrsitians were likely to be skeptics on the issue:
"Compared to non-evangelicals, American evangelicals were less likely to believe that climate change was happening, less likely to believe that human activity was the cause, and less likely to express worry and concern. And although a majority of evangelicals supported various policy measures to tackle climate change, they were less likely to do so than non-evangelicals.

"Within the sample of evangelicals, though, there was variation in people's views — and this variation was partly accounted for by their values and political ideologies. To the extent that people in the study were both evangelical and individualistic, they tended to doubt the reality of climate change. But Evangelicals who were more egalitarian in their outlook were less skeptical — and more concerned — about climate change."
Watch a short video and view photos from the chaotic scene captured by The Christian Post below: