Thousands Join Chardon Church Prayer Service Following Ohio School Shootings
Thousands gathered at a church in Chardon, Ohio, Tuesday night to mourn and pray for the victims of the school shooting that has shocked the community and the nation. Three students have died and two remain seriously injured following the shooting incident at Chardon High School on Monday morning.
Ohio Gov. John Kasich attended the church gathering and addressed mourners saying, "It's all about love. It's about reaching out to people who you never thought about reaching out to before. It's about making everyone feel special for who they are."
St. Mary's Church in Chardon was quickly completely filled, and thousands more congregated outside the church to join the prayer service via a big screen.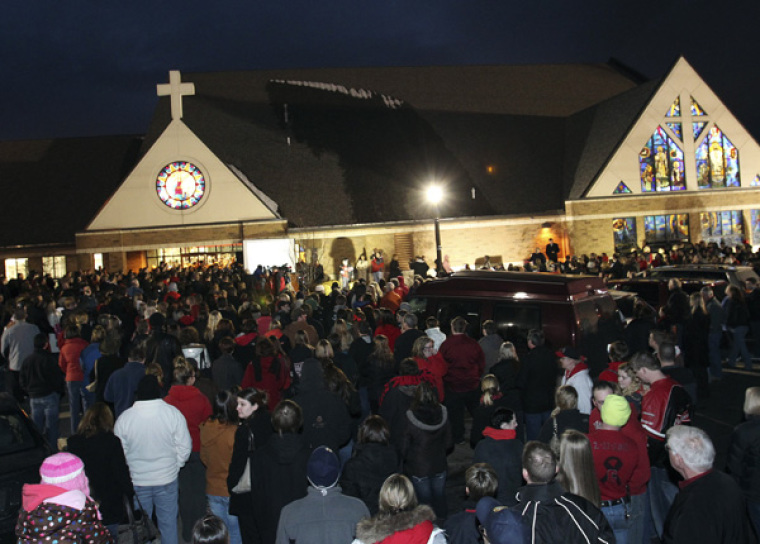 Those who spoke during the vigil included Chardon Schools Superintendent, Joseph Bergant, as well as Chardon High School Principal Andy Fetchik.
Fetchik addressed the community's students saying, "I'm very proud of you. I'm proud of the way you conducted yourselves and the way you've acted since that horrible event."
Fetchik found it hard to hold back tears as he said, "We'll mourn together; we'll struggle to understand together, we'll work hard to heal. The world's going to watch us heal. And again we'll be proud to be Hilltoppers," referring to the name of the school's sports teams.
Kasich added, "All Ohioans, all Ohioans from the west to the east from the north to the south, we all pray for you. Tonight, we all live in Chardon."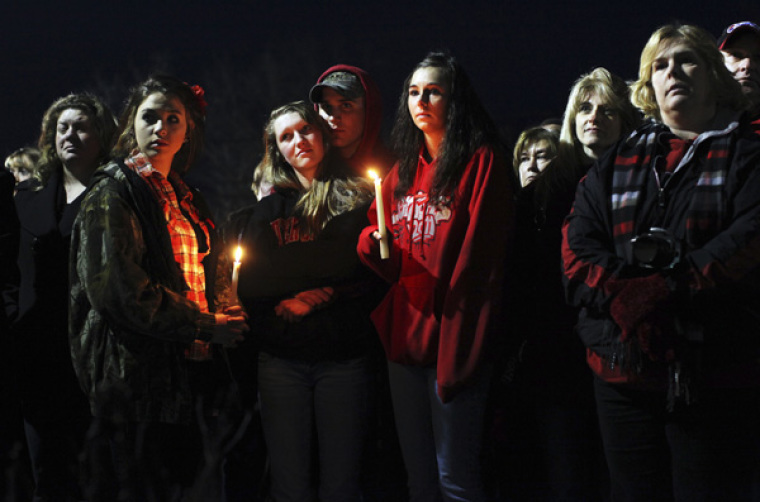 The first victim from the tragedy was identified by MetroHealth Hospital as Daniel Parmertor, who died from the wounds on Monday, hours after being shot.
Russell King and Demetrius Hewlin, who were seriously injured in the incident, died Wednesday morning, bringing the death count from the rampage to three. Of the other two victims in the shootings, Nick Walczak remains in hospital but is likely to make a recovery, and Joy Rickers has been released from the hospital Tuesday.
The alleged shooter TJ Lane, 17, made his first appearance in juvenile court on Tuesday afternoon. Prosecutor David Joyce reported, "This is not about bullying. This is not about drugs. This is someone who is not well."
"[Lane] confessed to taking the pistol and admitted he went into the cafeteria and shot 10 rounds," Joyce said. "[He said he] did not know the students, but chose them randomly."
It is alleged that TJ Lane used a .22 caliber handgun to shoot four students in the school cafeteria, as well as one in the hallway before being chased out of the school. Police caught up with him less than a mile from the school soon after.
Joyce also added that he definitely wants Lane to be tried as an adult.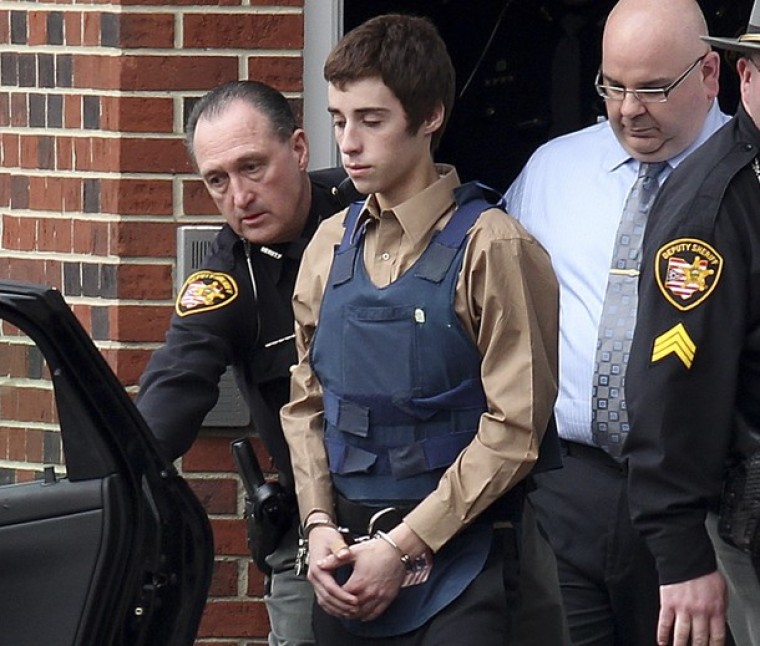 In court it was decided that the suspect he kept in detention for the safety of himself as well as others. TJ Lane's attorney did not object, and the judge ordered him to be taken to a detention facility. "TJ Lane will remain in detention during proceedings due to serious nature of allegations and charges," Judge Timothy Grendell said.
A friend of TJ Lane, who was a witness to the shootings, posted a note on his Facebook account saying, "I wanted so bad to try and help you but i could see in your eyes you didn't care anymore. I'm sorry buddy."
Meanwhile the chaos at the school in the aftermath of the shooting has been revealed in one of the 911 emergency calls made to police. The 911 call made by a young man, who identified himself as a student at the school stated:
Dispatcher: Did you see the shooter? Are you a student?
Student: Yes. Yes I am a student. I was right by the shooter when he pulled the gun.
Dispatcher: Who was the shooter?
Student: His name is Thomas Lane.
Dispatcher: Is he a student?
Student: Yeah.
Dispatcher: Where is he at now?
Student: He's somewhere in the building. As soon as I saw him pull the gun and start shooting, I ran outside.
Dispatcher: Did he shoot anyone?
Student: Yes. I saw a couple of students get hit.
Dispatcher: Where was all this taking place at?
Student: In the lunchroom at Chardon High School.
Dispatcher: And you saw him shoot how many?
Student: I saw him take out two and then I was gone... they were laying on the ground in blood.
Dispatcher: What was his beef with these kids, do we know?
Student: I have no idea. It's a kid that, generally like I try to talk to, he's very quiet and he doesn't really talk to anyone.
Dispatcher: Was he picking students randomly?
Student: Yeah, he just pulled out a gun and started firing upon, like 500 kids, all in the lunchroom.
Dispatcher: So he just pulled out the gun and started shooting students in the cafeteria?
Student: Yes. At random.
As the circumstances of the shooting continue to be investigated, the following chilling message has allegedly been found posted by TJ Lane on his Facebook page on Dec. 20, 2011:
In a time long since, a time of repent, The Renaissance. In a quaint lonely town, sits a man with a frown. No job. No family. No crown. His luck had run out. Lost and alone.
The streets were his home. His thoughts would solely consist of "why do we exist?" His only company to confide in was the vermin in the street. He longed for only one thing, the world to bow at his feet.
They too should feel his secret fear. The dismal drear. His pain had made him sincere.
He was better than the rest, all those ones he detests, within their castles, so vain. Selfish and conceited.
They couldn't care less about the peasents they mistreated. They were in their own world, it was a joyous one too. That castle, she stood just to do all she could to keep the peasents at bay, not the enemy away.
They had no enemies in their filthy orgy. And in her, the castles every story, was just another chamber of Lucifer's Laboratory. The world is a sandbox for all the wretched sinners.
They simply create what they want and make themselves the winners. But the true winner, he has nothing at all. Enduring the pain of waiting for that castle to fall. Through his good deeds, the rats and the fleas.
He will have for what he pleads, through the eradication of disease. So, to the castle he proceeds, like an ominous breeze through the trees. "Stay back!" The Guards screamed as they were thrown to their knees. "Oh God, have mercy, please!"
The castle, she gasped and then so imprisoned her breath, to the shallow confines of her fragile chest. I'm on the lamb but I ain't no sheep. I am Death. And you have always been the sod. So repulsive and so odd.
You never even deserved the presence of God, and yet, I am here. Around your cradle I plod. Came on foot, without shod. How improper, how rude. However, they shall not mind the mud on my feet if there is blood on your sheet.
Now! Feel death, not just mocking you. Not just stalking you but inside of you. Wriggle and writhe. Feel smaller beneath my might. Seizure in the Pestilence that is my scythe. Die, all of you.
The school superintendent has announced that a Chardon Healing Fund has been established and that all money donated will be used to help relatives of victims, and others affected by the tragedy. A total of $150,000 has already been donated to the fund.