Tim Ballard denies Vice report alleging sexual misconduct, calls claims 'baseless inventions'
Anonymous sources allege Ballard had women 'pretend' to be his wife on rescue mission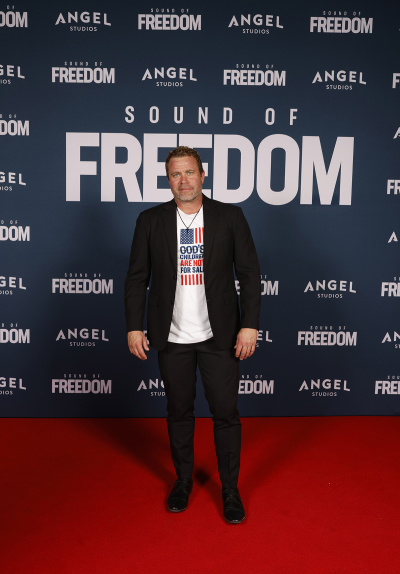 Tim Ballard, whose work in rescuing victims of sex trafficking inspired the hit film "Sound of Freedom," is denying allegations of sexual misconduct, the latest attack on the subject of a film that has earned more than $150 million internationally.
Ballard, the founder of Operation Underground Railroad (OUR), called the misconduct allegations alleged in a Vice article earlier this week "baseless inventions."
The report — which cites unidentified sources "close to OUR" and an "anonymous" letter circulating on social media — alleges Ballard took women "to pretend they were his wife" with him on overseas missions to rescue victims. According to Vice, Ballard would "allegedly coerce those women into sharing a bed or showering together, claiming that it was necessary to fool trafficker."
In response to the allegations, Ballard released a statement which read: "As with all of the assaults on my character and integrity over many years, the latest tabloid-driven sexual allegations are false. They are baseless inventions designed to destroy me and the movement we have built to end the trafficking and exploitation of vulnerable children.
"During my time at OUR, I designed strict guidelines for myself and our operators in the field. Sexual contact was prohibited, and I led by example. Given our meticulous attention to this issue, any suggestion of inappropriate sexual contact is categorically false."
Ballard, who now heads up The Spear Fund, which works to unify funding and organizational efforts to end trafficking, has faced a wave of various allegations in the wake of the box-office performance of "Sound of Freedom," including allegations made hours prior to the Vice report in a separate report Sept. 15 from the outlet accusing Ballard of misrepresenting the role of the Church of Jesus Christ of Latter-day Saints (LDS) in OUR.
According to that report, Ballard allegedly claimed that his "personal business ventures" were backed by a senior official in the Mormon church and that his work to rescue trafficking victims was to be used to "bring Americans to the Mormon faith — or, in his words, 'lead them to the covenant.'"
Ballard responded to those claims by questioning whether the Vice pieces were part of an effort to thwart his potential plans to run for the Senate seat that Senator Mitt Romney will vacate at the end of his term, which ends in January 2025. Romney announced he would not be seeking re-election earlier this month.
"Evil pedophiles will stop at nothing, and they have allies in government, in the media, in big corporations, and even in public institutions," he said. "They continue to lie and attempt to destroy my good name and defame my character…and they will never stop….
Adding that his church was unable to independently verify the LDS spokesperson's statement, Ballard added, "We are also highly suspicious about the timing of such a statement given its close proximity to Mitt Romney's announcement that he is retiring, my own public comments about my prayers about future plans, and the fact that the LDS church does not engage in political activity."
Earlier this summer, Ballard said he believed the media backlash to the film might be a sign of "spiritual warfare."
In an appearance on Fox News' "Fox and Friends" in July, Ballard said he "can't explain" why so many media outlets and personalities have ridiculed the movie as a "QAnon-adjacent conspiracy theory."
"I can't explain, and neither can they. Every show I've seen, they just like to throw the word out, 'QAnon,'" he said. "They make zero connection to the actual story. It's very difficult to make that connection when it's actually based on a true story."