'Sound of Freedom' filmmaker vows to save kids from trafficking: 'It's more dangerous not to do it'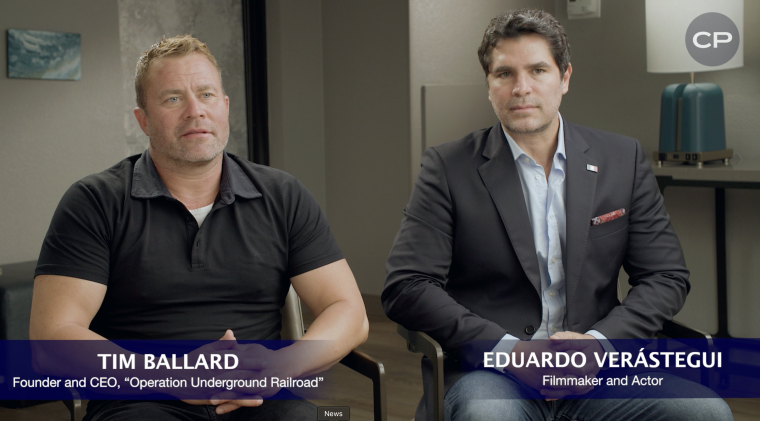 ORLANDO, Fla. — Filmmaker and actor Eduardo Verástegui is dedicating his "entire life" to saving kids, and one of the ways he is using his influence is by sounding the alarm in Hollywood with the new movie "Sound of Freedom."
Scheduled for release on July 4, the film tells the true story of one man's journey to combat child sex trafficking. The  Angel Studios film is based on the life of Tim Ballard, a former U.S. Department of Homeland Security agent who lost his job because he took it upon himself to rescue children from this horrific form of modern-day slavery.
Starring Jim Caviezel ("Passion of The Christ"), "Sound of Freedom" also features Oscar winner Mira Sorvino ("The Final Cut"), Bill Camp ("12 Years a Slave") and José Zúñiga ("Twilight"). Along with acting in the film, Verástegui ("Unplanned") is the film's producer, and Alejandro Monteverde ("Bella," "Little Boy") is the film's writer and director.
During a sit-down interview with The Christian Post at the National Religious Broadcasters Convention, Ballard and Verástegui spoke of their strong desire to get the film in front of as many people as possible to encourage them to take a stand against trafficking. 
"I love this line that Jim Caviezel says in the film. I didn't say it in real life, but it definitely sums up my feelings. When he says to his boss in the U.S. government: 'This job tears you to pieces, and this is my one way to put those pieces back together,'" Ballard said. 
After working for a decade as a DHS special agent, Ballard founded Operation Underground Railroad, which rescues children from sex trafficking rings around the world.
He said his passion for rescue work began when he realized that many trafficked children live in countries where government officials do not allocate resources to rescue those who are enslaved. The film highlights some of Ballard's inner struggles and what he decided to do about it.
"It's impossible not to want to be involved in a project like this. When I met Tim and I just heard [what he went through], I was in shock," Verástegui said.
"What really hurts me the most is that the people who are doing this to these kids are human beings like you and me, made of the same. This is not people who are coming from other planets that are our enemies. This is people like us. So in what moment, what happened to these guys?" he continued. "They were kids at some point, full of dreams. So what happened? At what moment did they decide, 'You know what? I'm going to use my life to hurt kids.'"
The "Sound of Freedom" trailer boldly declares, "God's children are not for sale."
The studio, filmmakers and actors hope that at least 2 million people will go to theaters on July 4 to represent the 2 million children victimized by human trafficking.
Verástegui, who has considered running for office in the Mexican government, said he is committing his life to the fight against human trafficking.
"Is it dangerous? Yes! [But] it's more dangerous not to do it. So at the end of the day, we're going to die and we're going to answer to God. Every day I think about this: How am I using my life?" he continued.
"When Tim told me, 'You know, it's very sad. What I'm telling you, of course, it's horrible. But it'd be more sad if now that you know it, if you do nothing. That penetrates the heart." 
Verástegui said they want to create a movement to "put pressure on the government so these things become a prime priority, not just for the government, for everyone."
The United Nations Office on Drugs and Crime defines human trafficking as any situation in which someone experiences "force, coercion, abduction, fraud, deception, abuse of power or vulnerability, or giving payments or benefits to a person in control."
The International Labour Organization reports that human trafficking is a $150 billion per year industry worldwide and that around 21 million people in the modern world are enslaved. Verástegui said many people are unaware that the problem exists, so combating it is not a priority. He wants "Sound of Freedom" to motivate people to act.
"[The movie] goes through the eyes. It moves the heart and the emotions, and then the feet move forward. That's movement! So we move, movie to movement," he declared.
"I promise to God, I want to dedicate my entire life to save children," Verástegui added. "I am pro-life, but pro-life means not just to defend just the babies in the womb; of course, that's the most fundamental and most important right because if you don't have the right to be born, you cannot enjoy any other right. But we don't stop there! What about the kids who are living in the streets? What about the children that are victims of child trafficking? What about those teenagers who are suffering from addictions? We need to be there too."
"If you are pro-life, you care about life in every stage of that person. That's why we decided to put all our energy, all our lives, our minds and our faith into this project. It's been eight years of work for two hours of your time, and I hope this movie will touch many hearts. I hope this movie will raise awareness." 
Verástegui declared: "We're coming to save the children and we coming after the traffickers too."
Multiple Hollywood studios rejected the film, but Angel Studios acquired worldwide distribution rights earlier this year.
Angel Studios is a platform for filmmakers to collaborate with the audience and bring projects to life by crowdfunding. It creates and distributes films and TV series worldwide and is known as the studio behind "The Chosen" and "Dry Bar Comedy." 
To spread the word, Angel Studios set up a pay-it-forward program where someone could pay for someone else's ticket who might not otherwise see "Sound of Freedom." Additional information can be found on the Angel Studios website.