Tim Keller Warns Christians 'Traditional Values' White Nationalists Could Be in Their Circles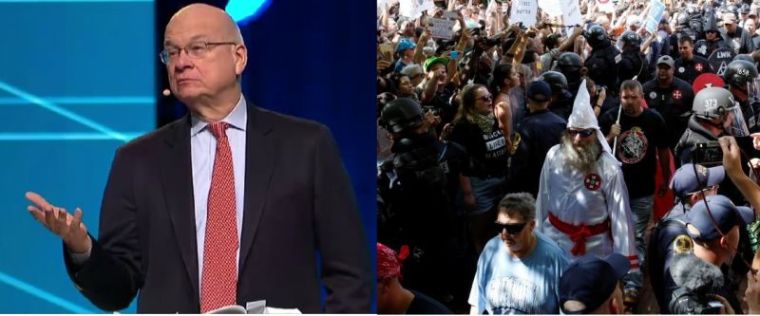 Redeemer Presbyterian Church founding Pastor Tim Keller has warned Christians in the wake of the Charlottesville white supremacist rally that some in their circles could themselves be attracted to white nationalism.
"Twentieth-century fascist movements that made absolute values out of 'blut und boden' ('blood and soil') — putting one race and one nation's good above the good of all — also claimed to champion traditional family values and moral virtues over against the decadence of relativistic modern culture," Keller wrote in an article for The Gospel Coalition on Tuesday.
He claimed that such views "could and can still appeal to people within our own circles."
"Internet outreach from white nationalist organizations can radicalize people who are disaffected by moral decline in society," the pastor warned.
"So, it is absolutely crucial to speak up about the biblical teaching on racism — not just now, but routinely. We need to make those in our circles impervious to this toxic teaching."
The warning was the last of Keller's three main talking points in the article regarding the gathering of white nationalist socialist groups in Charlottesville and the violent clashes with white supremacists and Antifa protesters and late on Saturday led to the murder of 32-year-old Heather Heyer by James Alex Fields Jr. who was seen protesting with a group called Vanguard America.
In his first point, he insisted that Christians should condemn what he called the "energized and emboldened white nationalism movement," and said that liberals and conservatives need to stop bashing each other.
"Second, this is a time to present the Bible's strong and clear teachings about the sin of racism and of the idolatry of blood and country — again, full stop," he added.
"Racism should not be only brought up at moments such as we witnessed in Charlottesville this past weekend. The evil of racism is a biblical theme — a sin the Gospel reveals and heals — so we should be teaching about it routinely in the course of regular preaching."
Other prominent evangelical leaders, such as Russell Moore, president of the Ethics & Religious Liberty Commission of the Southern Baptist Convention, said in an article for The Washington Post on Monday that white supremacy "makes Jesus angry."
Moore noted that Jesus strongly spoke out against religious hypocrisy and racial supremacist ideology, in contrast to those today who advocate for white supremacy in Jesus' name.
"Some of them speak of 'Christendom' — by which they mean white European cultural domination — and not of Christianity. But many others are members of churches bearing the name of Jesus Christ. Nothing could be further from the Gospel," he wrote.
"White supremacy does not merely attack our society (though it does) and the ideals of our nation (though it does); white supremacy attacks the image of Jesus Christ Himself," he added.
"The Church should call white supremacy what it is: terrorism, but more than terrorism. White supremacy is satanism. Even worse, white supremacy is a devil-worship that often pretends that it is speaking for God."