Tim Keller's family ask for continued prayers as pastor returns to hospital amid cancer battle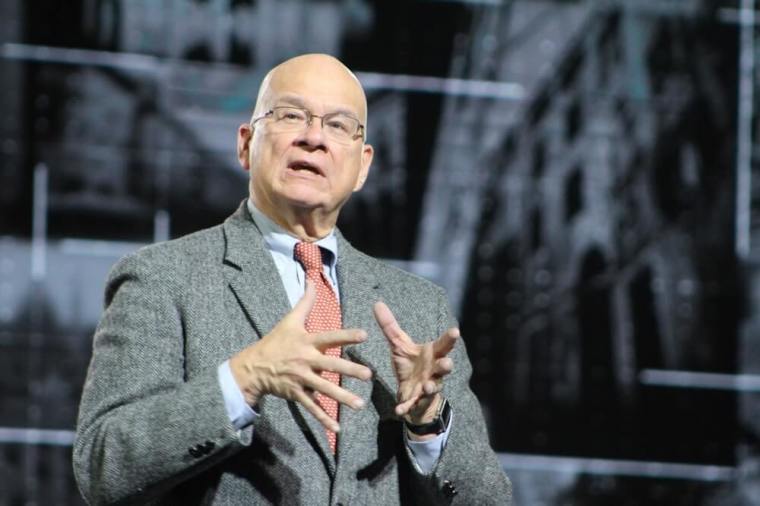 Tim Keller's family has asked for continued prayers for the pastor and bestselling author as he recently returned to the hospital amid his ongoing battle with pancreatic cancer.
"A brief health update on my Dad: After being released from the hospital on Saturday, he returned late Sunday night to receive additional care. Please continue to pray for his recovery," Michael Keller, Tim Keller's son, wrote on social media Wednesday morning. 
Keller, the founding pastor of Redeemer Presbyterian Church in New York City, was initially diagnosed with stage four pancreatic cancer in May 2020. Last year, he underwent immunotherapy at the National Cancer Institute in Bethesda, Maryland, which he said at the time was "successful in eradicating 99% of the tumors." 
However, in March, the 72-year-old pastor revealed that new tumors had developed, requiring him to undergo a repeat of the immunotherapy treatment.
In an update Saturday, the pastor's wife, Kathy Keller, revealed he had suffered "complications" from that treatment.
"Tim is out of the hospital and recovering at home after complications from his treatment. Please continue to pray during this slow recovery," she wrote at the time. 
Keller is also a survivor of thyroid cancer, which he had in 2002.
In November, the pastor told The Christian Post that the treatments had kept his cancer at bay, keeping him "exactly where I was two-and-a-half years ago when I got the cancer diagnosis."
"Most people are gone within months or a year; I'm still going strong and I'm going into two-and-a-half years. I'm very, very grateful to God," he said. 
However, he acknowledged that the cancer was "still there" and could "break out anytime." He added that every time he had a scan, he experienced "scanxiety."
"You know that it doesn't matter how good the last one was," he said. "This one could show that it's out of control."
Still, the pastor shared that he and his wife had seen their prayer lives grow and develop as they faced his diagnosis together. 
"This is going to sound like an exaggeration. My wife and I would never want to go back to the kind of prayer life and spiritual life we had before the cancer, never," he said, adding that his cancer journey has led him to genuinely experience Psalm 90:14: "Satisfy us in the morning with your unfailing love, that we may sing for joy and be glad all our days."
One of the most influential pastors of the last several decades, Keller has championed planting churches in urban areas through Redeemer City to City and popularized the term "Gospel-centered churches."
In February, The Gospel Coalition, which Keller co-founded, announced the launch of The Keller Center for Cultural Apologetics, an initiative designed to help pastors, young people and other Christian leaders adapt to a "post-Christendom culture."
Keller's books have also sold more than 3 million copies. Some of his bestsellers include The Prodigal God, The Meaning of Marriage and The Reason for God. His most recent, Forgive: Why Should I and How Can I?, addresses America's forgiveness crisis.

"There's a cultural moment here where I think forgiveness is very important to talk about," Keller told CP. "We live in a culture that is very fragmented, polarized, there's an awful lot of anger, and people are really after each other. Forgiveness is not in the air."

Collin Hansen, vice president of content and editor-in-chief for The Gospel Coalition and author of Timothy Keller: His Spiritual and Intellectual Formation, told CP that Keller has "plenty of other things he wants to write."
"We've been praying all along for another decade of energetic ministry," Hansen said. 
"It seems as though the spiritual work that God has done in his life through the cancer has been a kind of personal revival of sorts," he said. 
"So, there's sort of a combination of hopefulness and eagerness and planning for another decade ahead, Lord willing, but at the same time a sense that nothing is promised. And in that sense, Tim's just getting a concentrated dose of really all of our situations, no different for any of us, because, as Jesus tells us, we're not promised tomorrow either," he said.