Tim Tebow, Brother Robby Make Faith-Based Movie 'Run the Race'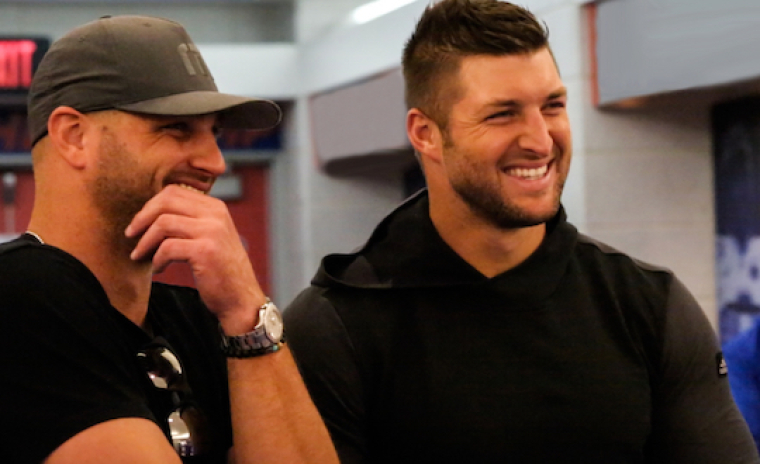 Tim Tebow can now add filmmaker to his list of accomplishments after he and his brother, Robby, teamed up to executive produce the new film "Run the Race."
The Tebow brothers lent their famous last name and talents to tell the fictional story of two brothers in high school who face trying times as they seek different paths to find a way out of their troubled lives.
"'Run the Race' is about so much more than football," Tim said in a statement shared with The Christian Post. "This is a story about overcoming the hard issues of life, about the power of sacrifice, the power of family, and the power of forgiveness. I love being part of a project like this because it will impact lives, inspire hope, and even prompt action. When I read the script, I knew this was an important project to get behind."
Robby Tebow echoed his younger brother's enthusiasm about the film which wrapped in April and is now in its final stage of post-production.
"The script pulled me in right away, and I wanted to bring it to life cinematically," Robby added. "As somebody with brothers in a big, super-close family that has gone through a lot together, it resonated with me on a deep level."
Following in the footsteps of Christian filmmakers the Kendrick brothers and Erwin brothers, "Run the Race" marks the Tebow brothers' first shot at creating feature films.
Much like Tim's story, "Run the Race" aims to show what is possible when someone "runs to — instead of from — the love of God," the film's synopsis says in part. 
"Reeling from his mother's death and his father's abandonment, Zach, an All-State athlete, finds glory on the football field, working to earn a college scholarship and the brothers' ticket out of town. When a devastating injury puts Zach — and his dreams — on the sidelines, David laces up his track cleats to salvage their future and points Zach toward hope," the film's synopsis adds, describing challenges the brothers face."
Tanner Stine ("NCIS," HBO's "Here & Now") stars in the movie as Zach; Evan Hofer ("Kickin' It") as David; Mykelti Williamson ("Fences," "Forrest Gump") as the boys' coach; and Frances Fisher ("Titanic") as their surrogate mother. Supporting cast includes Kristoffer Polaha, Mario Van Peebles and Heisman-winner Eddie George.
"Sports really is a microcosm of how life is," George said in a statement. "Somebody's going to deal with adversity. Somebody's going to deal with loss. Somebody's going to deal with pain. Somebody's going deal with victory and success. I think this film reflects that."
Directed by Chris Dowling ("Where Hope Grows"); and co-written by Jake McEntire, Dowling and Jason Baumgardner, the film is brought to audiences by Reserve Entertainment and 10th Leper Productions.
"We set out to make a film that engages the [young adults] crowd while retaining a universal, timeless appeal," Dowling said. "Young adults crave stories built on authenticity and we deliver with real characters having real conversations about love, family and trying to find his or her place in this sometimes crazy world."
According to USA Today, the Tebow brothers both have cameo roles in the film, but the Heisman Trophy winner says those appearances might not make the final cut.
When asked if he would consider doing more acting in the future, Tim told USA Today that he's thinking about it.
"I'm waiting for the right role that would click with my personality and my heart," he told USA Today. "It's something I would be open to maybe one day."
"Run the Race" was filmed in Birmingham, Alabama.
Joining Robby and Tim Tebow in the list of executive producers are Bill Reeves, Erik Weir, Trey Brunson, Joe Kosakowski and Erik Dellenback.
Distribution for the faith-based film and a release date will be announced soon. For more information, visit Run the Race Movie.com.